9 Coffee Alternatives Every Coffee Lover Should Try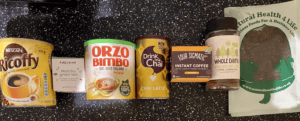 Hey there! Some links on this page are affiliate links which means that, if you choose to make a purchase, I may earn a small commission at no extra cost to you. I greatly appreciate your support!
There are a number of reasons to choose a coffee alternative when you still want a hot drink to start the day on the right foot. Here are 9 of the best coffee alternatives, tried and tested!
What Are Coffee Alternatives
Whilst coffee is the second most consumed drink on the planet (second only to water), it is not necessarily for everyone. There are a number of reasons why someone may choose to drink a 'coffee alternative' as opposed to a beloved cup of joe, including: 
Caffeine sensitivity

Insomnia

Avoid caffeine crash

Save Money

Lack of equipment 

Simply don't like the taste!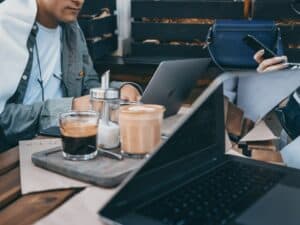 With this in mind, below are 11 great coffee alternatives that every coffee lover should give a try. There is a range of caffeinated, decaffeinated, 'smart coffees' and teas, all of which will give you a spring in your step and start your day off right! 
1. Mushroom Coffee
Mushroom coffee is becoming ever more popular in the world of java, thanks in some part to the influence of Joe Rogan. He has an insanely wide reach thanks to his popular podcast, UFC commentary, and comedic ventures. He often talks about the brain function-boosting benefits of mushroom coffee, as the beverage contains nootropic substances. 
Reasons to Drink: 
Not only does mushroom coffee taste great, but it also has the following health benefits: 
Reduced stress

Improved sleep

Reduced inflammation

Boosts immune system

Fights off chronic diseases

Improved focus. 
What to Buy: 
There are a number of great Mushroom coffee brands on the market, but I'd recommend Four Sigmatic. They are tired and tested and are one of the top-rated and most popular mushroom coffee producers out there today. 
2. Dandelion Coffee
Dandelion coffee is an age-old drink that dates back to the Ancient Egyptians, so it must have been consumed for a reason! Dried and ground dandelion root is added to hot water to create an earthy, health-boosting drink that can replace your morning coffee. 
Reasons to Drink: 
Dandelion coffee has been drunk for millennia, and it is easy to see why with the following health benefits: 
Improves bone health

Boosts immune system

Improves digestion

May lower the risk of cancer

Can improve liver health. 
What to Buy: 
Dandelion coffee is one of those products where the quality of the raw ingredients plays a major role in the taste of the drink because there aren't any other artificial ingredients! That's why I recommend Natural Foods 4 Life's dandelion coffee. It is highly rated on Amazon and the company's health food focus ensures you're in safe hands.
3. Chicory Coffee
One of the best-tasting coffee alternatives is chicory coffee. Its deep earthiness and subtle nuttiness combine brilliantly, which is why it is often paired with regular instant coffee to enhance the flavor. 
Reasons to Drink: 
You may associate Chicory with the red-colored salad leaf, but its root actually makes for a great-tasting coffee alternative! There are also a number of health benefits associated with chicory, including: 
Reducing cholesterol

Improved gut health

Contains vitamins C, B6

Contains potassium, folate, magnesium, and prebiotic fiber

Reduces constipation.  
What to Buy: 
Chicory coffee is actually a lot more popular than you might think. So much so that the biggest brand in coffee, Nescafe, has created its own version called Ricoffy. This is chicory infused with instant coffee, so you get that wake-up call from the regular coffee combined with the health kick that ground chicory root offers. 
4. Matcha Tea
Matcha Tea is an age-old drink that has been consumed in Eastern Asia for generations. It is a variant of traditional green tea and is made by growing the leaves undercover, to increase the production of chlorophyll. This is what gives matcha tea its vibrant green colour, and separates it from regular green tea. 
Matcha is one of the most versatile and popular coffee replacements, particularly in Asia. Matcha is not only used in hot drinks however, it also comes in: 
Ice cream

Sweets

Food dye

Deserts. 
Reasons to Drink: 
Matcha tea is often associated with a number of incredible health hacks, which include: 
Improved memory

Boosted metabolism

Better reaction times

Improved alertness

Improved heart health

Reduced risk of chronic diseases. 
What to Buy: 
Matcha tea is such a widely consumed commodity that the market for it has become pretty saturated! There are a number of great manufacturers out there, but one of the most popular is Pure Chimp. I found their matcha tea to be high quality and more punchy than others I've tried. 
5. Chai Tea
If you're looking for a more fragrant, gentle start to the day than a cup of coffee, then Chai tea may be up your street. This blend of Indian spices combined with black tea is a traditional Asian drink that has made its way into western culture. Chai has a very unique and comforting taste. It is both sweet and subtly spicy and is commonly served in latte form. 
Reasons to Drink: 
Chai is not only delicious, but it also has a number of health benefits associated with it. These include: 
Improved heart health

Improved digestion

Lower blood sugar

Controls nausea

Rich in antioxidants. 
What to Buy: 
By far the most popular Chai tea on the market is Drink Me Chai. This company started from humble beginnings and has grown to an international giant! 
6. Barley Coffee (Caffe D'Orzo)
Barley coffee is a traditional drink that was popularised during the second world war, particularly in Italy. It has a subtle earthiness and nuttiness to it that makes it a great coffee alternative if you are looking to reduce your caffeine. 
Reasons to Drink: 
Barley coffee or Caffe D'Orzo as it is traditionally known has been consumed for decades for a number of reasons: 
Reduces bloating

Reduces inflammation

Relieves constipation

Contains Vitamin E, magnesium, and potassium

Reduces hunger and cravings. 
What to Buy: 
One of the most traditional and popular brands of barley coffee you'll find is Orzo Bimbo. This Italian brand has a rich heritage of producing caffe D'Orzo, and is well worth a try! 
7. Whole Earth Coffee Alternative
The clue is in the name of Whole Earth's coffee alternative! It is a natural substitute for decaf coffee, made from the likes of chicory, rye, and figs. There is a malty flavor to the Whole Earth coffee alternative which is comforting and actually makes it more of a pre-bed drink rather than a morning pick-me-up! Regardless, it tastes great and is completely natural! 
Reasons to Drink: 
The all-natural ingredients found in Whole Earth Coffee alternative actually have a number of health-promoting benefits, including: 
Improved digestion

Reduced blood pressure

Calmness

Reduced hunger and cravings

Slow release energy

Reduced response to insulin. 
What to Buy: 
Whole Earth coffee alternative comes in both caffeinated and no-caf forms. 
8. Golden Milk
Similar to Chai tea, Golden Milk is known for its blend of herbs and spices with an underlying creaminess that makes it so delicious. Golden Milk originated in India and has been around for centuries. It has a heavy helping of turmeric included, which has a number of health-promoting benefits. 
Reasons to Drink: 
Whilst the idea of golden milk may sound quite simplistic, there are some pretty well-known healthy attributes, which include the ability to fight against: 
The common cold

Inflammation

Stomach upset. 
What to Buy: 
When you search for Golden Milk you'll come across a number of manufacturers. However, Vahdam seems to be the most authentic. They offer a range of different latte mixes which come in different flavors, including cucumber and ginger. 
9. Yerba Mate
Despite the slightly strange name, Yerba Mate has actually been consumed by millions for centuries and originated in South America. It is actually a herbal tea that is often consumed in a round container with a straw, something that some professional athletes are sometimes seen drinking. 
Yerba mate has a distinctly bitter taste. 
Reasons to Drink: 
Yerba Mate has been consumed for centuries for good reason! There are a number of health benefits associated with it, including: 
Improved alertness

Improved focus and energy

Rich in antioxidants and nutrients

Can protect against infection

Helps boost the immune system. 
What to Buy: 
Since Yerba Mate is a very traditional South American drink, there are a number of brands out there seeking to put their own twist on their recipe. Simply put, all Yerba Mate drinks contain dried leaves from the Ilex paraguariensis plant. However, as far as brands to try to go, Virtue Yerba Mate offers a fresh twist on traditional tea. It is served as a cold energy drink and offers a refreshing, healthy energy boost! 
Summary
Overall, coffee alternatives and substitutes are becoming more and more popular nowadays. Whilst coffee is still incredibly popular, consumers are looking for new and convenient ways to add more nutrients and vitamins into their diets. In fact, some people still want a hot drink to enjoy in the morning but simply don't enjoy the taste of coffee!
With this in mind, there are a number of coffee alternatives that are well worth a try and offer a number of additional health benefits above and beyond regular coffee. So, whether you are looking to scale back your caffeine intake, try a new flavor, or boost your immune system, coffee alternatives are well worth giving a go! 
Related Questions
Why Drink Coffee Alternatives?
If you don't like the taste of coffee but still like a hot drink in the morning, want to boost your immune system, or simply want to reduce your overall caffeine consumption, then some of the coffee alternatives listed above are worth trying. 
What is a Good Substitute for Coffee?
There are a number of great coffee substitutes that are well worth a try. Some, like barley coffee, mushroom coffee, and chicory coffee actually quite closely replicate the taste of coffee. Whereas, others like matcha tea, chai tea, and yerba mate offer a completely different flavor profile. 
What is the Healthiest Alternative to Coffee?
It is difficult to pin down one exact coffee alternative that is the healthiest since they all have their merits! The first question to ask is whether you are looking for a coffee alternative that contains caffeine or not, then decide whether you would like to replicate the taste of coffee, or try something new. Then, you can start to narrow down which healthy coffee alternative is for you! 
What Can I Drink to Wake Up Instead of Coffee?
If you are looking for a natural, caffeinated pick-me-up in the morning but are not in the mood for a cup of joe, then matcha tea, chai tea, yerba mate, golden milk, and mushroom coffee are well worth a try.