Is the Beautiful by Drew Barrymore Coffee Maker Worth It?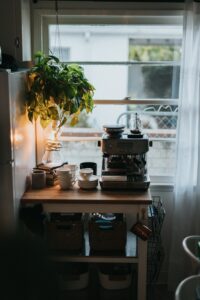 Hey there! Some links on this page are affiliate links which means that, if you choose to make a purchase, I may earn a small commission at no extra cost to you. I greatly appreciate your support!
It could be easily said that the coffee maker market is pretty saturated these days. There are so many brands competing in different countries, across all price ranges, and with varying levels of functionality. 
With this in mind, it takes something truly special to stand out in the coffee maker scene, be that a stunning design, dazzling new features or a simply irresistible price. 
One of the most hyped pieces of coffee equipment this year has been the Drew Barrymore coffee maker, which has left interior design enthusiasts drooling. 
Who is Drew Barrymore?
For those not up to speed with pop culture (I have to admit I'm not), Drew Barrymore is a very famous American actress that has starred in films such as: 
E.T.

Charlie's Angels

50 First Dates

Scream

Blended

Donnie Darko

The Wedding Singer

He's Just Not That Into You

Never Been Kissed. 
Barrymore has also released her own line of cosmetic products, sunglasses, fragrances, a clothing line, wines, and now home appliances! There isn't much that she hasn't ventured into! 
Kitchenware and Coffee Maker
As far as her new range of kitchenware goes, there is actually a lot on offer. Not only has Barrymore put her name to a stunningly stylish coffee maker, but there is also an: 
 Air Fryer

Toaster

Blender

Mini Oven

Kettle.
Released on St. Patrick's day in 2021, the whole range was launched in a special edition pastel green color to mark the occasion. All items in the range are also available in black, grey, white, and blue. These kitchen appliances are finished in a matte, pastel color which actually suits many more homes than the majority of shiny, polished appliances. They have a classy, more understated, and refined finish that brings an elegant and new modern touch to the kitchen. 
Each of these pieces of kitchen equipment was developed in collaboration with Made by Garter CEO Shae Hong. Hong's company has already made a statement in the kitchenware space, specializing in minimalist design and high-functioning technology. The company that actually sells Barrymore's range of kitchen appliances is Beautiful, a subsidiary of Made by Garter. 
So, Barrymore's coffee maker already comes with the right aesthetic to enrich the modern kitchen. But, it is not just style over substance. There are many nifty features throughout the entire kitchenware range! 
These include touchscreens, haptic feedback, programmable memories, and powerful capabilities. 
One of the features that sets the design of the Drew Barrymore range of kitchen appliances apart from the competition is actually quite subtle. When idle, these devices look modern, sleek, and unassuming. 
However, when they are powered up, soft, translucent white lights appear on the touch-sensitive control panels, which appear to glow from the device's surface. 
This is a very understated but also very forward-thinking feature that gives each of these appliances a high-quality, premium feel. 
Overview
For coffee lover that wants their style to match their passion for a great cup of joe, the Drew Barrymore coffee maker is a great addition to the kitchen. 
This coffee maker can be personalized with the range of colors on offer. It is a sleek, ergonomic, and well-designed coffee maker that can sit in pride of place in even the most up-market kitchens. 
Here are some useful Youtube videos to give you a bit more of an in-depth look at the Drew Barrymore coffee maker: 
Key Features
Programmable settings, up to 24 hours in advance

Illuminating Touch activated display

5 distinctive colors

14 cup capacity

The digital clock on the screen

Simply, user-friendly buttons

Soft, Matte finish with steel accents for a quality feel

1200 Watt system

Choice of Brew setting: Regular, Gourmet, or Bold

Replaceable charcoal filter

Adjustable automatic shut-off feature 

Non-Stick warming plate

Gold filter basket. 
Who is the Drew Barrymore Coffee Maker for?
As you can see, the Drew Barrymore coffee maker is clearly a stylish, multifunctional, and minimalist coffee maker that brings an element of class to the coffee maker market. 
Beautiful is an appropriate name for the company that sells this coffee maker, as that's exactly what the machine is! It has an incredibly up-market feel with its soft yet tactile matte finish and steel edging. 
Contrary to most coffee makers out there that favor shiny plastics, plenty of thought and care has gone into the Drew Barrymore coffee maker to make it stand out from a design perspective. 
Therefore, if you are looking to upgrade your current coffee maker to a high-end, well-designed, and modern-looking machine that is truly something different, the Drew Barrymore Coffee Maker by Beautiful is well worth considering. 
Should You Buy a Drew Barrymore Coffee Maker?
You would think that such a nicely finished, simplistic yet well-designed coffee maker would break the bank. 
However, at just $49.97 the Beautiful 14 cup programmable coffee maker by Drew Barrymore is actually very reasonably priced!
Whilst it is not necessarily the most high-end or technologically advanced coffee maker out there, its ergonomic design, touch screen, and textured material finish really do set it apart. 
So, if you need a new coffee maker and want a premium finish along with great functionality, then the Beautiful by Drew Barrymore coffee maker is actually a great value option! 
Summary
Let's return to the question at the start of this article, is the Beautiful by Drew Barrymore coffee maker worth it?
Well, in essence, yes! 
It is a well-designed, easy-to-use, and impressively put-together coffee maker that is a lot more aesthetically pleasing than a lot of the dull-looking coffee makers on the market today. 
Whilst it won't set the world on fire with dazzling new functionality, its touch screen and the textured materials used are nice touches that go a long way to giving the machine an upmarket or premium feel. 
Related Questions
Who Makes the Drew Barrymore Coffee Maker? 
The Drew Barrymore coffee maker was designed by Drew herself and Made by Garter founder Shae Hong. Her range of kitchen appliances, including the coffee maker, is sold by Beautiful, which is a Made by Garter brand.