What is Orzo (Barley) Coffee?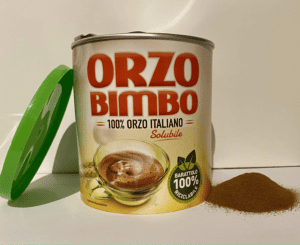 Hey there! Some links on this page are affiliate links which means that, if you choose to make a purchase, I may earn a small commission at no extra cost to you. I greatly appreciate your support!
Many health-conscious coffee enthusiasts understand that consuming too much caffeine on a regular basis can actually cause a number of health concerns, not to mention desensitising the body from the invigorating effects!
With this in mind, caffeine-free coffee alternatives that still taste like the real thing but also offer plenty of health-associated benefits have been growing in popularity in recent years. 
One coffee alternative that has actually been around for decades is Caffe D'Orzo, or barley coffee to give it its more common name. 
This natural coffee alternative was popularised in Italy back in the second world war whilst overseas trading became limited. However, there are more benefits to drinking barley coffee than you might think!
So, should you swap out your regular cup of Joe for the European Caffe D'Orzo? Well, let's find out! 
What is Orzo/Barley Coffee?
The first question you may ask is,  what actually is barley coffee?
Well, it won't be surprising to find out that it is made from barley seeds, but how does the production process compare to traditional coffee? 
Barley coffee, or caffe D'Orzo, is made by extracting and roasting barley seeds from the plant, which by the way is the most commonly farmed grain in the Western world. Just like coffee beans, barley seeds are then dry roasted and finely ground to form an espresso-like powder that can be used to make caffe D'Orzo. 
Where Did Orzo Coffee Come From?
As mentioned earlier, barley coffee was actually popularised out of necessity rather than want. During the second world war, trading between countries became difficult, particularly in central Europe. 
Therefore, nations like Italy, Spain, and Germany had to use what they had available domestically, which led to ground barley being used as a coffee alternative. 
It was an inexpensive, accessible, and good-tasting substitute for real coffee which offered comfort to European nations in these times of distress. 
Fast forward a few decades, and most consumers of caffe D'Orzo still recognize it as a 'cheap' or substandard coffee alternative. However, this is not the case in the European home of coffee, Italy!
It may surprise you to hear that barley coffee is still so popular in Italy, given how great their regular coffee is. 
But, caffe D'Orzo is seen as a more healthy alternative to coffee and is actually served to children so they can get in on the action. Barley coffee is also caffeine free, so it is often seen as a more healthy substitute for strong Italian espresso. 
How Barley Coffee is Prepared
Barley coffee actually comes in a fine powder form, much like finely ground espresso coffee beans. 
There are a few different ways to prepare barley coffee. 
Caffe D'Orzo is traditionally made using an espresso machine, but barley coffee also comes in coffee pods and soluble instant coffee forms. In fact, traditional Italian homes will feature a specially designed Moka pot which has been adapted to brew caffe D'Orzo, called an Orziera.
Since barley coffee is traditionally ground into a very fine powder, it is often brewed using pressurized water methods, rather than solutions. 
Benefits of Drinking Orzo/Barley Coffee
It is not just the lack of caffeine in barley coffee that makes it more suitable for a health-conscious coffee lover, there are also a number of additional benefits to drinking it. 
Aiello, a traditional Italian coffee roaster notes on their blog page "Barley coffee: what it is and how to make it" (May 2019), that barley coffee has the following health benefits: 
Improves Digestion

Reduces Bloating

Acts as an Anti-inflammatory

Contains Vitamin E, Potassium, and Magnesium

Can help Reduce Blood Sugar

Relieves Constipation
Rokit Health, a company that produces sustainable and recyclable coffee pods, also recommends barley coffee in "what is barley coffee?", based on the following: 
Improved Concentration

Loaded with B Vitamins

Reducing Hunger

Boosts Immune System.
It is worth mentioning that Rokit Health produces a number of different Nespresso-compatible coffee pods, all of which contain healthy coffee alternatives, such as: 
Barley Coffee

Matcha Green Tea

Matcha and Turmeric

Matcha and Cacao

VitaCoffee

Turmeric Blend. 
Much like Rokit Health, I also understand the incredible health benefits of Matcha Tea, so I wrote a full article on it here. 
Ingredients and Nutrition of Orzo/Barley Coffee
Simply put, barley coffee contains just freshly roasted and finely ground barley seeds! There really isn't anything else to it than that! 
Naturally, the manufacturer and type of barley coffee you choose will determine the flavor, but in essence barely coffee really is just that! it is also worth noting that most barley coffee drinks will contain gluten. 
There is typically no traditional coffee cut into caffe D'Orzo, since the idea is to taste the nutty and malty flavors of the barley in all their glory. 
How Does Orzo/Barley Coffee Taste?
If a true coffee lover is going to make the switch to barley coffee, it has to taste great! 
Even if there are a number of health benefits associated with the drink, if it doesn't taste great, it won't be worth it. 
When you first open a tin of barley coffee, you are met with a fresh, earthy, and strong smell. It is not as nutty as opening a bag of coffee beans, in fact, the smell is a little woodier. 
I went for Orzo Bimbo instant as my barley coffee, for the convenience and heritage of the brand. 
To get the best out of your instant coffee, regardless of its ingredients, the best way to extract the most flavor is to put a bit of cold water into it and form a bit of a paste before adding your hot water. This ensures the instant coffee doesn't burn and you retain the delicate, earthy flavor you are looking for. 
In terms of taste, barley coffee has a smooth and mild flavor profile. It is not as aggressive on the pallet as something like Mushroom coffee for example. Whilst you can taste the influence of wheat in barley coffee, it is not overpowering. Caffe D'Orzo has a distinct nuttiness that is actually sweeter than traditional coffee. 
Who is Orzo Bimbo?
Unfortunately, it is quite difficult to track down this popular barley coffee manufacturer. Their online presence is pretty limited! 
However, their Barley coffee is very popular on Amazon so they must be doing something right! 
Orzo Bimbo was founded in 1970 and marketed its first barley-based breakfast drinks as "baby in a cup". The company has produced a number of Italian television commercials and is now a staple in Italian homes. 
 Orzo or barley coffee is a traditional, caffeine-free coffee alternative that actually tastes surprisingly good! There are also plenty of health benefits associated with barley coffee, plus it is easy to incorporate into your diet. 
Should you replace your regular cup of freshly brewed coffee with caffe D'Orzo? Well, the taste is slightly different and you won't get the same buzz that a caffeinated coffee will offer. 
However, if you are looking for an alternative or substitute to decaf coffee and fancy something that has a few more inbuilt health benefits, then barley coffee is definitely worth a try! 
Summary
Overall, barley coffee is a unique, natural coffee substitute that has actually been around for decades. Whilst it was first popularised during the second world war, there is now an ever-growing demand for caffe D'Orzo as coffee lovers become more health conscious. 
This caffeine-free substitute to your morning brew tastes great, has a load of health-promoting qualities, and actually makes a great replacement for decaffeinated coffee. 
Related Questions
Does Barley Coffee Contain Coffee?
No, barley coffee is made exclusively from picked, roasted, and finely ground barley seeds. 
When Should I Drink Barley Coffee?
Since barley coffee does not contain any caffeine, it can be consumed at any time during the day without impacting sleep quality. 
Is There Caffeine in Barley Coffee?
No, none whatsoever. Barley coffee is made from just roasted and ground barley seeds, so it does not contain any caffeine. 
Can You Drink Barley Coffee every day?
Yes! There are no known health risks associated with drinking barley coffee every day. However, since it does contain gluten, people with gluten intolerances should probably avoid it if possible. 
What are the Benefits of Barley Coffee?
There are a number of benefits of drinking barley coffee, including improved digestion, boosted immune system, reduced bloating, and reduced inflammation. 
Does Barley Coffee Contain Gluten?
Barley coffee does contain gluten, but there are some brands that have managed to remove the gluten from it. If you have celiac disease it is worth steering clear of barley coffee altogether.