What is Matcha Tea and Should you Drink it?
The coffee vs tea debate has raged on for decades. Some people prefer the rich, roasted, aromatic, earthy flavor of a freshly brewed cup of coffee every morning, come what may.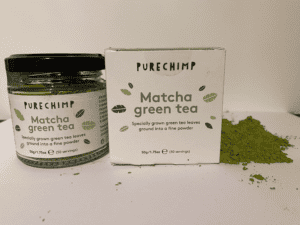 Hey there! Some links on this page are affiliate links which means that, if you choose to make a purchase, I may earn a small commission at no extra cost to you. I greatly appreciate your support!
However, others prefer a more subtle, refined start to the morning with a balanced, familiar, and comforting cup of tea. 
However, tea comes in a wide variety of forms, and, contrary to popular belief, is not limited to just the black tea you find in tea bags. 
One major reason that so many people prefer coffee over tea is the invigorating effect that the instant caffeine hit gives them every morning. Coffee just gives you that wake-up call that tea can't deliver! 
That being said, with so many alternative tea and coffee substitutes coming onto the market these days thanks to accessible shipping and globalized, multinational businesses, drinks like matcha are becoming more accessible. 
Matcha tea is actually very popular in Eastern Asia, particularly in Japan. 
Matcha sets itself apart from other hot beverages thanks to its incredibly vibrant green color and unique flavor. 
But, can this colorful drink really replace the traditional morning cup of hot tea or coffee? Well, let's dig a little deeper and find out! 
What is Matcha Tea?
Matcha tea is a traditional Japanese-derived drink. It is made using the Japanese green tea plant Camellia Sinensis, which is covered for 3-4 weeks before harvesting. This promotes the production of chlorophyll, giving matcha tea its distinctive bright green color. 
Rachael Links notes in her Healthline article (February 2020) "7 Proven Ways Matcha Tea Improves Your Health", that matcha utilizes the entire leaf, which is ground up into a fine powder, giving you more caffeine and nutrients per gram. 
According to "What is Matcha Tea?" (ND) by popular supplement store Holland & Barratt, the production process of matcha helps promote the production of "theanine, caffeine, chlorophyll, and various catechins", which have a number of health benefits. 
Where a traditional cup of tea will be made using a tea bag containing black tea, matcha is a finely ground powder that you simply add to your cup along with hot water and enjoy!
Matcha is not just used in cups of tea, however. In recent years, as per its Wikipedia article, popular matcha products include:
Lattes

Shots

Deserts

Ice Cream

Food Dye

Wagashi Sweets
Benefits of Drinking Matcha Tea
There are actually a number of health benefits associated with drinking matcha tea. It is an age-old drink that has been consumed in Eastern Asia for generations, and with the benefits it brings, it is easy to see why! 
As per Healthline's Rachel Links, "7 Proven Ways Matcha Tea Improves Your Health" (February 2020), drinking matcha tea on a regular basis can: 
Help boost your metabolism

Elicit weight loss

Can improve heart health

Reduce your risk of cancer

Improve memory

Improve reaction times

Give you an energy boost whilst avoiding the caffeine crash

Promotes liver health

Strengthen cells by stabilizing free radicals

Reduce the risk of chronic diseases. 
With all this being said, regardless of whether you decide to replace coffee entirely with matcha tea, it is well worth including in your diet for the health benefits alone! 
Ingredients and Nutrition of Matcha Tea
Matcha tea is one of the most natural drinks you can have. It is made from natural, finely ground matcha tea leaves. Green matcha tea is incredibly healthy and, unlike some other coffee alternatives, contains only natural substances. What's more, there are no pesticides in sight! 
In terms of nutrition, matcha tea contains around 90 mg of caffeine per 8 Oz serving and is vegan-friendly. There are so many health benefits associated with matcha tea that it is well worth giving a try! 
How Does Matcha Tea Taste?
The big question is, can matcha tea really stand up to the taste of freshly brewed coffee?
Well, they are pretty different products that have distinct flavor profiles of their own. Matcha tea is pretty irony, but also has a certain sweetness to it, and a bitter finish. 
Much like regular green tea, there is a strong umami flavor that shines throughout the sip. 
Whilst both coffee and matcha tea have a distinct bitterness to them, matcha tea is a lot more reminiscent of fresh vegetables, whereas coffee has a much nuttier flavor. 
Also, the L-theanine found in matcha tea actually alters the way that the caffeine in it affects your body. As a result, you get the benefits of increased alertness and improved reactions, without the caffeine crash! 
Who is Pure Chimp Matcha Tea?
The matcha tea I decided to try out was from a company called Pure Chimp. They have a strong ethos of sustainability and philanthropy, pledging at least 5% of their profits to charity each year.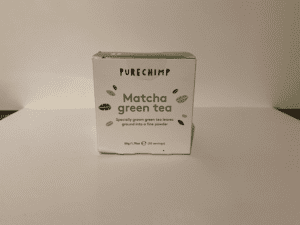 They have thousands of credible Trustpilot ratings and reviews, so they must be doing something right! 
It is always reassuring when not only does a company's produce tastes great, but they stand up for good causes too! 
Whilst Pure Chimp is most famous for its exquisite matcha tea, they also offer a number of other products and bundles, including: 
Matcha sample sachets

Rooibos matcha tea

Turmeric matcha tea

Cinnamon matcha tea

Mint matcha tea

Lemongrass matcha tea

Starter sets

Gift boxes. 
Their website also offers a useful blog and plenty of tasty recipes to make the most of your newfound matcha love! 
If you are looking for a healthy alternative to coffee, with less caffeine but still plenty of buzzes, then matcha green tea is well worth a try. The main difference between coffee and matcha tea is the taste. 
If you are after a more floral flavor that still has some of the earthiness and bitterness that coffee offers, then matcha tea may well fit the bill. 
The bright, funky color is sure to get you up in the morning, and the health benefits alone make it well worth including matcha tea in your diet. 
So, should you buy matcha tea? Hell yes! 
Summary
Overall, matcha tea is a great product that can be enjoyed by coffee lovers as well as those that just want an energizing beverage to start the day. Matcha tea has been enjoyed for centuries and it is clear to see why! 
There are so many health benefits associated with matcha tea that it is hard to see why everyone doesn't drink it! Whilst matcha tea may not be to everyone's taste, it is a refreshing, comforting drink that will pep up in the morning without that dreaded caffeine crash. 
Related Questions
What Does Matcha Tea Do to Your Body?
Drinking matcha tea is a great way to boost your immune system and perk you up in the morning, without the headaches or anxiety that is sometimes associated with highly caffeinated drinks, as strong coffee. 
Is Matcha Tea Good For You?
Yes, extremely! There are a number of health benefits associated with drinking matcha tea, including enhanced brain function, boosted immune system, and improved heart health. 
What Does Matcha Tea Taste Like?
Matcha tea tastes similar to green tea but has a more subtle and slightly sweeter flavor. 
What is the Difference Between Matcha Tea and Green Tea?
In terms of cultivation, matcha tea is grown undercover for the last month or so before it is harvested, whereas green tea grows in sunlight for the duration of its life. Matcha tea is grown in the shade and promotes the production of chlorophyll, which gives it its signature bright green color. 
How Much Caffeine is in Matcha Tea?
Matcha Tea contains around 90 mg of caffeine per 8 Oz cup. Matcha powder itself contains approx 30 mg of caffeine per gram.