41 Best Decaf Coffees of 2022: (Beans, Ground, Instant, Pods)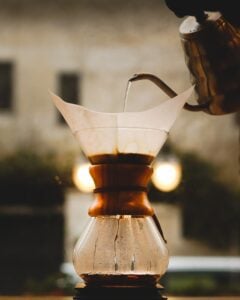 Hey there! Some links on this page are affiliate links which means that, if you choose to make a purchase, I may earn a small commission at no extra cost to you. I greatly appreciate your support!
Coffee has become one of the most valuable trading commodities in the world. People love that caffeine rush in the morning that has become an integral part of the workday. But, what if you have grown to love the taste of coffee, but don't need that rush of energy and alertness? What if you want to enjoy coffee throughout the day without it harming the quality of your sleep? Or what if you simply have an intolerance to caffeine? Well, decaf coffee is here to help! 
What is Decaf Coffee?
Decaf coffee is an incredibly popular substitute for regular caffeinated coffee, especially for elderly people, those that suffer from anxiety, or those that simply have enough energy to get through the day without a cup of joe!
The coffee decaffeination process happens after the beans themselves are harvested. Before they are dried they are steamed for a longer period of time than regular coffee, in order to strip the ripe coffee fruit of its caffeinated oils. 
Decaf coffee is thought to be a little more sour tasting than regular caffeinated coffee. However, most people that drink it will struggle to tell the difference as the flavor change is so minor. 
There are many different types of decaf coffee out there. I have therefore catered to the masses and picked the best caffeine-free coffee beans, ground coffee, and instant coffee for your perusal. We like to consider everyone's needs here at Espresso Insiders! 
Best Decaf Coffee Beans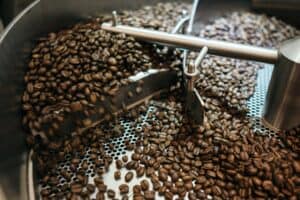 If you're after a decaf coffee that packs a serious, Kicking Horse Decaf Dark Roast Coffee has definitely got you covered! The strength of these beans resembles some of the boldest and most bitter caffeinated dark roasts you can buy, so there's no penalty to pay for going decaf. If you enjoy the natural smokiness of dark-roasted coffee, you'll love Kicking Horse decaf. 
Despite its almost harsh, bold flavor, hazelnut, and chocolate notes can still be picked up. There is a depth of flavor in Kicking Horse that is unlike any decaf out there today. It is definitely worth cutting this coffee with a dash of milk or cream to take the edge off! 
Caravan Coffee's El Carmen Decaf is one of the most noteworthy and intriguing coffee partnerships on the market today. This cooperative partnership allows Caravan Coffee to trade with the coffee farmers of the renowned Huila region in Southern Colombia. Many coffee brands advertise themselves as fair trade, but Caravan Coffee really does give back directly to the farmers themselves! 
This sustainably decaffeinated coffee is a very high-quality option that has robust nutty and chocolatey flavors, as is common with coffee from this region. This is a very well-rounded coffee bean that, in medium roast form, is both satisfying and traditional in its flavor. 
Assembly Coffee is one of the UK's best up-and-coming specialty coffee brands. Their Colombian decaf coffee beans originate from the Huila region of Southern Colombia, similar to the second choice on this list. 
The sugarcane decaffeinated beans have a pleasantly sweet, chocolate flavor with a hit of fruitiness to keep you interested. There is a refreshing lightness to Assembly Coffee's decaf beans which leaves you wanting more and more to experience the layers of flavor.  
One of the higher-end decafs on the list is Volcanica Coffee House's Decaf Coffee. On the surface, Volcanica decaf tastes just like regular high-end coffee. But, dig a little deeper and you'll find notes of sweet chocolate and caramel which support the bold depth and earthiness. There is a great balance of flavors in this decaf coffee, so you don't have to skimp on quality just because it's decaf! 
Volcanica Coffee Company uses beans from all over the planet to create their signature house decaf blend. When you visit their website, you'll see many different decaf varieties so no matter what your specific needs are, they've got you well covered! 
Volcano Coffee Works is a UK-based independent coffee roaster that takes quality and sustainability seriously. Their decaf coffee is a single origin from Peru that has a surprisingly complex flavor profile. 
The washed coffee beans have a distinct taste of praline, which gives off a very nutty aroma with a hint of dark chocolate for good measure. If you're looking for a great-tasting coffee and have a keen eye for giving back to the coffee producers themselves, give Volcano Coffee Works a go! 
Union Roasted is a very popular UK-based coffee roaster that aims to cut out the middleman and deliver great coffee directly to the consumer. Their classic decaf beans are a blend made up of dozens of small, independent coffee roasteries, ensuring you get the best quality coffee possible at a fair price. They even specify the date it was roasted so you know exactly how fresh your beans are!
As far as taste goes, Union Roasted decaf has a robust collection of flavors. It combines dark chocolate, walnuts, and treacle, delivering an earthy blow that is nicely offset by sticky sweetness. 
Another high-end specialty coffee brand is the UK-based, Full Court Press. All of their coffee lineups come with very colorful packaging and unique names that represent the origin story of the coffee itself. Full Court Press is named as such to represent the all-or-nothing nature of its brand and business. They focus heavily on paying their Bristol-based employees a living wage along with reinvesting in their business as much as they can. 
Their Villamaria decaf coffee blend hails from Manizales, Columbia, and is very fruity to the taste. The most notable taste is of citrusy orange and sharp grape, which is undercut nicely with a Moorish biscuit flavor. 
For a dark-roasted decaf coffee, Lavazza Dek has a pretty interesting flavor profile. Combining both arabica and robusta beans, Lavazza has created a strong yet flavorsome blend that characterizes classic Italian coffee. 
Many coffee makers will create an overly strong decaf to compensate for the lack of acidity and natural buzz from the caffeine.  However, this can end up ruining the natural flavors of the coffee and create a harsh, bitter drink that leaves a sour taste in the mouth. 
Lavazza has avoided this trap with its Dek blend, adding cereal and nutty notes to round out the taste. For a dark roast that also features naturally stronger robusta beans, Lavazza Dek is remarkably smooth and full-bodied, without being overpowering. 
If you want to be part of an exclusive club of Columbian coffee lovers, Koffee Kult Colombian Decaf is the way to go. Another strong choice for coffee lovers that want a bold and memorable brew that won't keep them up at night. The high-quality Colombian beans are decaffeinated through the Swiss Water Process and have a flavor reminiscent of dark chocolate, mixed nuts, and maple syrup. Kult Koffee Decaf strikes a nice balance between robust flavor and well-rounded sweetness. 
Pact Coffee's decaf beans are a well-rounded, classic medium roast that will get your day off to a great start. The UK-based subscription services sell directly from coffee farmers for a fairer deal to both the customer and the coffee producer. 
Not only does Pact Coffee do great things for the coffee industry, but its products also taste amazing too! Their decaf blend consists of Castillo Colombian beans that are incredibly versatile. They can be enjoyed morning, noon, and night!
These decaf beans have that classic nutty Arabica bean taste of nuts and chocolate, but also have a subtle hint of apple that cuts through the bold flavors. There is a sense of sweetness that runs through this coffee too thanks to its underlying caramel flavor. 
The Coffee Bros have become increasingly well-known thanks to their no-nonsense approach to roasting great quality coffee. The brothers take pride in supporting the little guys of the coffee industry. They source their beans exclusively from micro-lot farmers that would otherwise struggle to access the booming North American coffee market. 
As far as their decaf roast goes, there is a smoothness and subtle nuttiness that combines perfectly with the natural chocolate flavor. The Coffee Bros also promise never to over-roast (or burn) your coffee beans, making sure they always preserve the natural, delicate flavors and aromas. 
Lifeboost offers fantastic organic, fair-trade coffee with a robust taste and no caffeine to speak of! Striking the balance between a classic bold coffee taste and more subtle fruity flavors is not an easy task. However, Lifeboost has nailed it with their organic decaf coffee! 
There is a distinct lack of acidity which freshens up the coffee somewhat, making it more palatable to a wider audience. You can expect an intense flavor with a hint of fruitiness and citrus. 
Best Decaf Ground Coffee

From the small, relatively unknown organic coffee roaster Jo Coffee comes a fantastic dark roast that has many layers of flavor. Jo Coffee is a fairtrade certified coffee that was originally started by Speciality Java as a way to serve fantastic specialty coffee to the online coffee market through Amazon. Jo takes taste seriously. However, the brand has grown massively in the US and now is becoming more and more recognized for its high-quality, specialty organic coffee. They even use the Swiss Water process of decaffeination to ensure the underlying coffee flavors are preserved, whilst also keeping their coffee chemical free. 
They use professional cuppers to taste each and every coffee variety they produce, to ensure you get the highest-grade coffee possible. Their dark roast decaf is deliciously rich and earthy, with notes of blueberry and sweet chocolate shining through on the finish. This punchy yet complex decaf coffee takes the top spot on our list. 
Many coffee manufacturers these days claim to have the best quality, most ethically sourced, or most organic coffee on the market. However, it is a rare sight for a coffee brand to claim to offer 'healthy' coffee. 
However, this is exactly what Exhale does! Their decaf coffee in particular is packed with antioxidants, vitamin B3, and polyphenols. Whilst these substances are readily available in all ground coffee, Exhale specifically sources the highest quality beans to ensure they are as nutrient-rich as possible. 
Their decaf coffee is of a single origin that comes from Cajamarca, Peru. As far as taste goes, Exhale's organic decaf coffee doesn't disappoint. Since it prides itself on offering the most natural coffee out there, you can really taste the underlying coffee flavors. Notably, you get that familiar nuttiness and chocolate flavor that is apparent in most great medium roast arabica beans. But, to cut through the richness, Exhale's decaf also has undertones of fruit and a hint of citrus to round it off. 
You can get Exhale's organic decaf coffee in either a medium or fine grind, so no matter how you like to brew your coffee, they've got you covered! 
A classic Italian coffee on the list of the best decaf coffees of 2022 is Illy's ground-roasted signature blend. There is no noticeable difference between this and the caffeinated version, so you'll still get those familiar nutty flavors with hints of citrus and floral undertones. 
Much like Illy's Classico Beans, their ground-roasted decaf strikes a nice balance between strength and delicate flavors. This is a very well-rounded decaf that is highly rated across the internet. If you're looking for a solid all-rounder that is actually quite reminiscent of a breakfast blend, give this a try!
A sweet and citrusy decaf number comes from Cafedirect with their Machu Picchu Fairtrade Ground coffee. Pre-ground specifically for filters and french presses, this decent decaf is a coffee that gives back to its suppliers. Some fruitier coffees these days can actually taste more like fruit tea than a regular cup of joe! 
However, Cafedirect has got the balance right here and retained just a hint of sweet orange flavor, which rounds the drink out nicely. The Peruvian, single-origin beans are carefully picked and ground to a universal size. This coffee pairs nicely with milk, but to get the full taste sensation, try it black. 
Another household name that makes great decaf coffee is Peet's. Their Major Dickinson blend is a dark roast decaf that packs a serious punch. One of many decaf options from Peet's, the Major Dickinson Blend has a robustly smoky flavor with a hint of spicy at the back of the throat. Peet's doesn't hold back with the bold flavors here, that's for sure! If you like a dark roast but don't want the Major Dickenson Blend to take your head clean off, then add a dash of milk to settle it down a bit. 
If you're looking for a vibrant cup of coffee that will wake up your taste buds, minus the caffeine, this is a great one to go for! 
For coffee lovers that enjoy that dark, earthiness of an Indonesian bean but want to leave the caffeine to one side, Volcanica Sumatra Mandheling is a great choice. These top-tier single-origin beans from various small farmers in the volcanic region of Mount Leuser, Indonesia, fall on the darker side of a medium roast and are smokey and rich in flavor. 
You'll also find that the subtle undertones of chocolate and dried fruit give the Sumatra Mandheling decaf blend a cleaner aftertaste. This is another decaf that tastes great on its own, especially if you drink it long and want to savor the mouth-watering flavors. 
For a classic, well-balanced decaf coffee from a reliable manufacturer, you can't go far wrong with Seattle's Best Decaf Coffee Portside Blend. Their 100% Arabica beans are blended exclusively from Latin American sources. These caffeine-free beans offer a great bang for your buck and are a solid all-rounder.
You'll find a classic nutty taste of a medium-roasted coffee, and will be hard-pressed to choose between this and the regular caffeinated version! For such a big brand, you'll find a surprising depth of flavor in their Portside Blend. 
Salula Premium Decaf Ground Coffee combines four different high-grade arabica coffee beans to make their caffeine-free grounds as great as can be! This award-winning decaf coffee packs a punch and the strong aromas waft out at you as you open the reusable tin! It is also pretty appealing as a kitchen decoration by the way!
The Spanish brand pride itself on its velvety smooth taste and rich, creamy mouth feel. However, there is still plenty of punch and full-bodied, roasted flavor that lingers on the aftertaste. 
This small, independent, specialty coffee roaster based in Southampton, UK, produces some of the best decaf coffee going. Their no-frills approach to offering great coffee is pretty refreshing these days. SORoast offers subscription services, and a multitude of different bean origins and you can even purchase coffee in person from their store! 
Their high-quality blend of decaf beans from Honduras and Ethiopia join together to create a smooth and full-bodied, yet sweet and fruity cup. They use the sparkling water method to wash their coffee beans and remove the caffeine, helping to maintain as much of that subtle, natural flavor as possible. 
The flavors you will detect include smooth milk chocolate, nuttiness, and biscuit, along with delicate undertones of sweet raspberry and juicy watermelon. 
Best Decaf Instant Coffee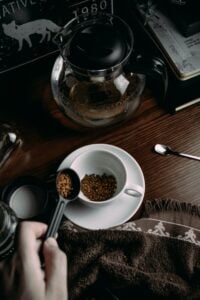 The top pick for the best decaf instant coffee is Nescafe with their Gold Blend decaf. Nescafe produces some of the best quality and best-tasting instant coffee out there, and they have followed suit with their gold blend. 
Nescafe has combined both arabica and robusta beans to offer a dark and rich, yet smooth and flavourful decaf instant coffee. This comes in a sealed gold tin to lock in the flavor, so you get fresh-tasting coffee every time.  
This gold blend from Nescafe is very finely ground, to the point of being powder-like. This ensures it is silky smooth, enhancing the luxurious mouth feel. Whilst the flavor is definitely bold and strong, it is not overwhelming. Coffee brands will often load up their decaf blends with overly harsh flavors to try and compensate for the lack of caffeine. Nescafe has avoided this trap with its gold blend, retaining plenty of that familiar nuttiness and clean coffee taste. 
Waka Coffee uses exclusively arabica coffee beans from Columbia, so you know what you're getting is great quality. This is even true of their freeze-dried instant decaf, which has that familiar nuttiness, body, and citrus aftertaste of Columbian coffee beans. 
Waka uses sustainable packaging for both its outer box and individual coffee servings, so not only are you enjoying the great-tasting coffee, but you're also doing your bit for the planet as well! 
As far as instant decaf coffees go, Mount Hagen is up there with the best. The freeze-dried ground beans are surprisingly good for an instant due to their above-average strength. 
There is a boldness and depth to Mount Hagen decaf that gives it a full-bodied, earthy flavor. Not many other decaf instant coffees out there can compete with the punch that Mount Hagen decaf packs! However, it is not all face and no trousers. There is plenty of nutty and subtle chocolate flavor that can be picked up if you keep Mount Hagen's Organic decaf coffee in your mouth for long enough. 
Nescafe Azera bucks the instant coffee trend with its extremely finely ground, powder-like Americano blend. The decaf version tastes just as good but comes without the caffeine fix. Azera has a distinctively strong, full-bodied flavor that is a little more abrasive on the pallet than its Gold Blend for instance. 
You'll spot Nescafe Azera decaf a mile off with its distinctive bright orange lid and silver tin packaging. As far as taste goes, Azera is silky smooth and bold, just like a regular americano. Unlike many other decafs coffees out there, Nescafe Azera combines both Arabica and Robusta bean varieties to offer a punchy yet velvety drinking experience. You even get crema! 
Traditionally, Italian roasted coffee tends to be quite bitter and strong in flavor. You would think therefore that a decaf variant would lose some of this strength and actually be quite unpleasant to drink, sitting in no man's land. 
However, if there is anyone that can make a punchy, dark-roasted decaf coffee taste like the real thing, it's Starbucks. Their Italian roast decaf is a great value option for those that want to enjoy that familiar Starbucks taste without the added head rush. They come in single-serve packs so can be enjoyed on the go. 
This coffee has quite a strong aroma which contributes to its bold, bitter flavor. This may be a bit abrasive for the more sensitive palate, but if you're a Starbucks lover you'll be right at home with their Italian roast decaf! 
A relatively unknown brand Little's making the list of the best decaf instant coffee may come as a bit of a surprise, but the proof of the pudding is in the drinking! Their Premium Brazil instant decaf coffee has a delicate nuttiness to it that is refreshingly mild. Despite this, there is a depth of flavor that lingers on the back of the pallet and leaves you wanting more. 
Little's uses 100% premium arabica beans in their decaf instant coffee, so you are guaranteed top-quality ingredients. Little's specializes in flavored coffee, from hazelnut to vanilla to orange, so give them a try! 
Another decaf instant that is on the more delicate side, is Nescafe Taster's Choice. These come in single-serve packets and are robust enough to taste like fully caffeinated coffee, but don't insult your palate and try to blow your head off with excessive bitterness. This is a pretty refreshing decaf coffee to drink, a far cry from some of the more potent members of this list. 
For a decaf instant coffee, Nescafe Taster's Choice has a pleasant, full-bodied feel. The fruity aftertaste really lifts this coffee and gives it more sippable credentials. 
Another organic, fair-trade coffee on the list is Cafe Altura decaf. This instant coffee is a low-acid choice that is light in flavor, making it a great breakfast blend. It is not a particularly strong coffee so is perfect for people that want to sit back and enjoy the moment with a more subtle blend. 
Cafe Altura decaf has that classic nutty taste without the added harshness or bitterness of some of the stronger, dark-roasted coffees on this list. 
Another top-quality instant decaf coffee to round out the list is Douwe Egberts decaf instant. This classy, high-quality coffee has a rich, creamy, and fresh aroma that permeates the room as soon as you open its signature glass jar. 
Douwe Egbert's freeze dries their coffee to preserve its signature flavor, and the medium roast has a distinctive nutty taste with a smooth finish. 
Best Decaf Coffee Pods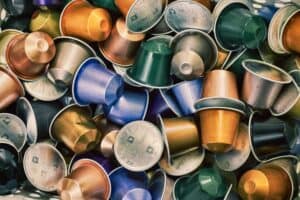 Nespresso is pretty much the king when it comes to coffee pods. So many coffee machines these days are made specifically to suit their pods, they do have a real monopoly on the coffee pod sector. 
So, it is only right for their coveted decaf pod to sit at the top of this list. The packaging is incredibly up-market, the coffee itself is rich and creamy and the whole drinking experience just oozes excellence! The very Italian Firenze Arpeggio Decaffeinato is a medium roast that has a dark, rich, and velvety texture. The blend is made up of beans from both Arabica and Robusta beans from South and Central America to give the coffee a more intense flavor. 
 In terms of its flavor profile, you'll get a dark and intense earthiness from the Nespresso Firenze Arpeggio Decaffeinato. However, unlike a Starbucks Dark Roast, the coffee is not bitter or overly harsh. It is rounded out nicely with a smoothness at the end that caresses the pallet rather than assaults it. 
Another Italian stallion of a coffee brand is Illy. They have been producing great coffee for decades and have converted their most popular coffee blend into Nespresso-compatible pods! 
Their Classic Decaf is an extremely well-balanced drink, even in K-Cup form. You don't miss out on any of the familiar chocolate taste or nuttiness, that is so familiar with Illy's Classico blend. You even get the subtle citrus undertones! 
This is the most convenient way to drink Illy's Classico coffee in decaf form, and it's something I'm very much on board with! 
Dolce Gusto capsules are slightly bigger than K-Cups and tend to offer a wider range of drink options. Specialty coffee is usually reserved for pods, but the Nescafe Dolce Gusto Lungo Decaf is a great option, minus the caffeine. 
This is a similarly smooth and nutty coffee as the original, except there is no caffeine involved. The beans themselves originate from Brazil and Columbia, two of the powerhouses of the coffee industry. This full-bodied coffee is not necessarily the boldest or strongest out there, but it is very well-balanced. It is equally enjoyable with or without milk but also doesn't need a sweetener to balance it out. 
The pods are specifically designed to preserve freshness, and you can certainly taste the difference! 
These delicate light roast organic coffee pods from CRU Kafe are so convenient when you want a sweeter, more subtle-tasting cup of coffee. Not everyone wants their head blown off by the world's strongest coffee every morning, even if you are foregoing the caffeine! 
CRU Kafe offers an alternative that lets the natural coffee flavors do the talking.  The aluminum pods offer optimum freshness so you'll always get the perfect taste. They are also completely recyclable so you can do your bit for the planet too! 
CRU Kafe Organic Coffee Pods are finely ground Arabica beans, featuring an airey milk chocolate flavor mixed with cashews and an almost biscuity undertone. Being lightly roasted, these pods are best enjoyed as they come, straight out of the box as an espresso shot or long black. 
Caravan Coffee Roasters is a London-based company that offers delicious decaf coffee pods. Caravan celebrates local Colombian farmers and actually uses the by-products of sugar cane production to enhance their coffee cultivation. This is what gives their decaf coffee its unique, sweet flavor. 
Speaking of which, this is a mouth-watering coffee that would pair very well with a sweet treat! Caravan's decaf coffee possesses notes of sweet pear, maple syrup, and rich chocolate. This gives it a rich, full-bodied sweetness with just a hint of sweet fruit that rounds it out. A very satisfying coffee to drink from start to finish! 
If you're looking for an intense pod coffee built for espresso but without the caffeine, look no further than the L'Or Ristretto variety. These are as strong as you can get from L'OR, and they certainly pack a punch! 
Sure, they are slightly weaker than their caffeinated counterparts, but as far as decaf pods go they are rocket fuel! If you are looking for a strong coffee that will give you the same taste as intense as regular caffeinated coffee but without the head rush, this is the one for you. 
The Original Donut Shop Decaf Coffee is a slightly more left-field choice but one that is certainly popular. These K-Cup, medium roast coffee pods are surprisingly tasty and allow you to bring that sweet smell of fresh ground coffee into your own home! Their coffee is surprisingly good! It has a good body to it but isn't overly complex in terms of its flavor profile. 
Reminiscent of the in-store experience, The Original Donut Shop Decaf Medium Roast coffee pods have a distinct strength that is needed to cut through sweet treats! The coffee is not overly harsh though, as it still retains a certain smoothness that makes it easier on the palate. 
For a more subtle and refreshing decaf coffee to start your morning, Green Mountain Breakfast Blend is a great place to start. Their light roast coffee pods are a break away from some of the bold java out there, offering a more delicate and refined taste. The taste is incredibly well-balanced and really lets the natural nuttiness and smoothness shine. 
Just because you may be in a rush or limited on coffee equipment doesn't mean you can't sit back and enjoy the moment. As is usual with a breakfast blend, Green Mountain delivers a more mellow way to start the day, just without that caffeine rush. 
Peet's Coffee is a major household name, but that doesn't detract from the sheer quality of their House Blend decaf coffee pods. These top-shelf, single-serve pods simply offer great coffee in every cup. 
They have a full-bodied flavor that you wouldn't guess is decaf. Peet's dark roast beans are surprisingly well balanced, offering a nice blend of rich earthy flavor and subtle sweetness to round them off. The natural boldness of the dark roasted beans compensates for the lack of caffeine or acidity in these decaf pods. However, they don't go overboard and make it all about strength and bitterness. There is a robust enough flavor to keep you on your toes, but not so much as to ruin the experience. 
This classic medium roast, fairtrade coffee from Kirkland offers a punchy kick from their finely ground beans. The flavor aires more towards a dark roast than a traditional nutty medium, thanks to its slight edge of bitterness. Whilst this makes up for the lack of caffeine, the delicate flavors have not been forgotten about. 
There are still notes of raisin and cocoa that lift this coffee and make it more of a palatable all-rounder. The coffee from these pods will go nicely with milk but are actually flavourful enough to be enjoyed black too, despite its robust flavor. 
These pods are specifically designed for Keurig machines, so can be enjoyed even if you're rushing out the door! 
These Nespresso-compatible decaf coffee pods from Coffee Kings offer a well-balanced, yet bold flavor profile. 
They use both robusta and arabica beans for added strength, giving this coffee a real depth of flavor. You get that edge of bitterness that is characteristic of robusta beans, combined with the slight nuttiness from a dark roasted arabica. 
Summary
Overall, just because you may want to opt for no caffeine in your coffee, doesn't mean you still can't find great quality beans! Regardless of whether you prefer whole beans, pre-ground, pods, or even instant, there are many bold, flavourful, and great-tasting options out there. 
Many decaf options will offer a slightly bolder flavor to make up for the lack of acidity and of course caffeine in their produce. However, there are still plenty of more mellow, delicate-tasting coffee options out there for those that want to enjoy a longer sip without the caffeine hit. 
Related Questions: 
Does Decaf Coffee Taste Different?
Decaf coffee tends to have lower acidity than regular caffeinated coffee. It generally has a slightly weaker flavor and is therefore usually roasted darker to add a more robust flavor.  
How
is Coffee Decaffeinated?
There are a few ways to remove caffeine from coffee. However, the most popular two are through chemicals and using the swiss water method. 
When chemicals are involved, coffee is washed and steamed multiple times with substances such as ethyl acetate or methylene chloride to remove the oils that produce caffeine in the first place. 
Whereas, when using the swiss water method, coffee is flushed through extremely pure water, and caffeine is removed via osmosis. Green, unroasted coffee is washed with hot water and this dissolves the caffeinated oils from the coffee beans themselves. 
Is
Decaf
Coffee Bad for you?
Drinking decaf coffee in general as part of a healthy, balanced diet won't cause you any harm. However, some consider the chemicals used to remove caffeine from coffee to be worse for health (although there is no scientific evidence to suggest this). That, amongst other reasons, is why some coffee lovers prefer to drink only Swiss water-processed decaf coffee. 
What is the Swiss Water Process? 
The swiss water process of decaffeinating coffee is used to remove caffeine from coffee without the use of any artificial or harsh chemicals. Green coffee beans are washed in hot, purified water to remove the oils containing caffeine. However, in order to stop the natural coffee flavor from being dissolved during the same process, the swiss water approach utilizes a charcoal filter to ensure only the larger caffeine molecules are removed. 
The result is great-tasting coffee that has its caffeine removed in a natural way!