13 Best Decaf Coffee Beans of 2022 (Ranked and Reviewed)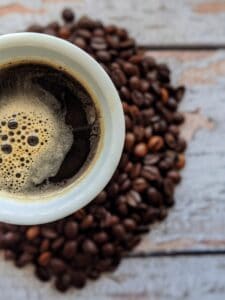 Hey there! Some links on this page are affiliate links which means that, if you choose to make a purchase, I may earn a small commission at no extra cost to you. I greatly appreciate your support!
Decaf coffee is incredibly popular these days as coffee lovers become more conscious of their overall caffeine intake. Instead of always drinking the most caffeinated coffee beans every day, it can be a healthy swap to try decaf every now and then. 
However, don't think that just because there is next to no caffeine that these coffee beans have lost their flavour. High quality decaf coffee beans are still very punchy and many brands will actually add more robust flavours to their decaf blends to ensure you don't miss out on any of that familiar kick! 
Best Overall:
Kicking Horse Decaf Dark Roast Coffee
Most Punchy:
Lavazza Dek
Best Flavour:
Union Roasted Decaf
What is Decaf Coffee?
Decaf coffee is an incredibly popular substitute for regular caffeinated coffee, especially for elderly people, those that suffer from anxiety or those that simply have enough energy to get through the day without a cup of joe! Decaf coffee beans are the most raw form of produce, as they can then be ground down into individual bags, coffee pods or even made into instant coffee! 
The coffee decaffeination process happens after the beans themselves are harvested. Before they are dried they are steamed for a longer period of time than regular coffee, in order to strip the ripe coffee fruit of their caffeinated oils. 
Decaf coffee is generally a little more sour tasting than regular caffeinated coffee. However, most people that drink it will struggle to tell the difference as the flavour change is so minor. 
Why Buy Decaf Coffee Beans?
If you have the right equipment, buying any form of coffee bean is the most authentic way to prepare them. Sure there is more work required than simply buying instant or even pre-packaged pods, but there are many benefits to buying coffee beans themselves. 
Buying decaf coffee beans gives you the most control possible over your brew. You can grind your beans yourself depending on your brewing method (for example a very fine grind for espresso, or a much more coarse grind for french press). 
You also get the freshest coffee by grinding a single serving for yourself. And hey, who doesn't love the smell of freshly ground coffee in the morning, even if it's decaf! 
The 13 Best Decaf Coffee Beans of 2022 
Here is a roundup of the best decaf coffee beans out there in 2022. 
Best Decaf Coffee Beans
1. Kicking Horse Decaf Dark Roast Coffee
If you're after a decaf coffee that packs a serious, Kicking Horse Decaf Dark Roast Coffee has definitely got you covered! The strength of these beans resemble some of the boldest and most bitter caffeinated dark roasts you can buy, so there's no penalty to pay for going decaf. If you enjoy the natural smokiness of a dark roasted coffee, you'll love Kicking Horse decaf. 
Despite its almost harsh, bold flavour, hazelnut and chocolate notes can still be picked up. There is a depth of flavour in Kicking Horse that is unlike any decaf out there today. It is definitely worth cutting this coffee with a dash of milk or cream to take the edge off! 
2. Caravan Coffee El Carmen
Caravan Coffee's El Carmen Decaf is one of the most noteworthy and intriguing coffee partnerships on the market today. This cooperative partnership allows Caravan Coffee to trade with the coffee farmers of the renowned Huila region in Southern Colombia. Many coffee brands advertise themselves as fair trade, but Caravan Coffee really does give back directly to the farmers themselves! 
This sustainably decaffeinated coffee is a very high quality option that has robust nutty and chocolatey flavours, as is common with coffee from this region. This is a very well rounded coffee bean that, in medium roast form, is both satisfying and traditional in its flavour. 
3. Assembly Coffee Decaf Colombia 
Assembly Coffee is one of the UK's best up and coming specialty coffee brands. Their Colombian decaf coffee beans originate from the Huila region of Southern Colombia, similarly to the second choice on this list. 
The sugarcane decaffeinated beans have a pleasant sweet, chocolate flavour with a hit of fruitiness to keep you interested. There is a refreshing lightness to Assembly Coffee's decaf beans which leaves you wanting more and more to experience the layers of flavour.  
4. Volcanica Coffee Company House Decaf Coffee
One of the higher end decafs on the list is Volcanica Coffee House's Decaf Coffee. On the surface, Volcanica decaf tastes just like a regular high end coffee. But, dig a little deeper and you'll find notes of sweet chocolate and caramel which supports the bold depth and earthiness. There is a great balance of flavours in this decaf coffee, so you don't have to skimp on quality just because it's decaf! 
Volcanica Coffee Company uses beans from all over the planet to create their signature house decaf blend. When you visit their website, you'll see many different decaf varieties so no matter what your specific needs are, they've got you well covered! 
5. Volcano Coffee Works Decaf
Volcano Coffee Works are a UK based independent coffee roaster that takes quality and sustainability seriously. Their decaf coffee is a single origin from Peru that has a surprisingly complex flavour profile. 
The washed coffee beans have a distinct taste of praline, which gives off a very nutty aroma with a hint of dark chocolate for good measure. If you're looking for a great tasting coffee and have a keen eye for giving back to the coffee producers themselves, give Volcano Coffee Works a go! 
6. Union Roasted Decaf
Union Roasted is a very popular UK based coffee roaster that aims to cut out the middleman and deliver great coffee directly to the consumer. Their classic decaf beans are a blend made up from dozens of small, independent coffee roasteries, ensuring you get the best quality coffee possible at a fair price. They even specify the date it was roasted so you know exactly how fresh your beans are!
As far as taste goes, Union Roasted decaf has a robust collection of flavours. It combines dark chocolate, walnuts and treacle, delivering an earthy blow that is nicely offset by sticky sweetness. 
7. Full Court Press Villamaria Decaf
Another high end speciality coffee brand is the UK based, Full Court Press. All of their coffee lineups come with very colourful packaging and unique names that represent the origin story of the coffee itself. Full Court Press is named as such to represent the all or nothing nature of their brand and business. They focus heavily on paying their Bristol based employees a living wage along with reinvesting in their business as much as they can. 
Their Villamaria decaf coffee blend hails from Manizales, Columbia and is very fruity to the taste. The most notable taste is of citrusy orange and sharp grape, which is undercut nicely with a moorish biscuit flavour. 
8. Lavazza Dek
For a dark roasted decaf coffee, Lavazza Dek has a pretty interesting flavour profile. Combining both arabica and robusta beans, Lavazza have created a strong yet flavoursome blend that characterises classic italian coffee. 
Many coffee makers will create an overly strong decaf to compensate for the lack of acidity and natural buzz from the caffeine.  However, this can end up ruining the natural flavours of the coffee and create a harsh, bitter drink that leaves a sour taste in the mouth. 
Lavazza have avoided this trap with their Dek blend, adding cereal and nutty notes to round out the taste. For a dark roast that also features naturally stronger robusta beans, Lavazza Dek is remarkably smooth and full bodied, without being overpowering. 
9. Koffee Kult Colombian Decaf Coffee
If you want to be part of an exclusive club of columbian coffee lovers, Koffee Kult Colombian Decaf is the way to go. Another strong choice for coffee lovers that want a bold and memorable brew that won't keep them up at night. The high quality Colombian beans are decaffeinated through the Swiss Water Process and have a flavour reminiscent of dark chocolate, mixed nuts and maple syrup. Kult Koffee Decaf strikes a nice balance between robust flavour and well rounded sweetness. 
10. Pact Coffee Casa Loma
Pact Coffee's Casa Loma decaf beans are a well rounded, classic medium roast that will get your day off to a great start. The UK based subscription services sells direct from coffee farmers for a fairer deal to both the customer and the coffee producer. 
Not only do Pact Coffee do great things for the coffee industry, their produce tastes amazing too! Casa Loma consists of Castillo Colombian beans that are incredibly versatile. They can be enjoyed morning, noon and night!
These decaf beans have that classic nutty Arabica bean taste of nuts and chocolate, but also have a subtle hint of apple that cuts through the bold flavours. There is a sense of sweetness that runs through this coffee too thanks to its underlying caramel flavour. 
11. Verena Street Swiss-Water-Process
If you're looking for high quality, pre ground coffee from a small, local roastery, then Verena Street Swiss Water Process Decaf Coffee is the way to go. 
As is the case with most top of the range decaf blends, Verena Street uses the gentle swiss water process to ensure no chemicals are used while decaffeinated their coffee. What's more, this is a slightly more bitter and robust medium roast, sitting somewhere between a classic medium and dark. In terms of flavour notes, there are hints of vanilla extract and sweeter nuts to offset the natural earthiness of this full bodied coffee. 
12. Coffee Bros Decaf Roast Coffee
The Coffee Bros have become increasingly well known thanks to their no nonsense approach to roasting great quality coffee. The brothers take pride in supporting the little guys of the coffee industry. They source their beans exclusively from micro-lot farmers that would otherwise struggle to access the booming North American coffee market. 
As far as their decaf roast goes, there is a smoothness and subtly nuttiness that combines perfectly with the natural chocolate flavour. The Coffee Bros also promise never to over roast (or burn) your coffee beans, making sure they always preserve the natural, delicate flavours and aromas. 
13. Lifeboost Organic Decaf Coffee
Lifeboost offers fantastic organic, fair trade coffee with a robust taste and no caffeine to speak of! Striking the balance between a classic bold coffee taste and more subtle fruity flavours is not an easy task. However, Lifeboost has nailed it with their organic decaf coffee! 
There is a distinct lack of acidity which freshens up the coffee somewhat, making it more palatable to a wider audience. You can expect an intense flavour with a hint of fruitiness and citrus. 
Summary
Overall, there is a lot to be said for buying your own decaf coffee beans and taking home coffee brewing into your own hands. Just because you may want to give decaf a try, doesn't mean you can't enjoy a great cup of coffee! 
In terms of the best coffee beans for those that don't want the caffeine, luckily there are plenty of options to choose from. Whilst I have put together a list of the best decaf coffee beans out there, the choice really is yours. Preferences for a darker roast, lighter roast, fruitier flavour or nutty flavours can all be catered for in the list above! 
Related Questions
Is Decaf Coffee Worse Quality? 
No, not at all! There is some argument that some of the more aggressive, chemical methods of coffee decaffeination reduces the quality and makes the beans less flavourful. But, if a high quality, natural process is used, such as the Swiss Water method, there is no significant difference in quality, or taste between regular caffeinated coffee and decaf. Many decaf coffees are less acidic, which is often offset by a darker roast, giving the beans an overall more robust flavour. 
Is Decaf Coffee Bad for You?
Again, this is another misconception! There are minute traces of chemicals used in some, lower quality decaf coffee processing methods and these are thought to cause some stomach issues in some people. However, if you steer clear of the mass produced, cheaper brands and stick to the higher quality coffee beans as listed above, you won't have any issues! 
Which Decaf Coffee is the Least Bitter? 
If you are looking for more mellow, less bitter decaf coffee, look out for breakfast blends or light roasts. These show off the subtle flavours of the coffee bean itself and tend to preserve the natural nuttiness, fruitless or sweetness associated with that particular origin or blend.