Overview
Illy is one of the most recognisable brands in the coffee world today. They have been around for almost a century and their beans are used in many independent coffee shops around the world. The Italian brand has become a dominant force the world over. Their classico coffee beans are a staple of their product line and deliver the first impression that many coffee lovers get of the brand.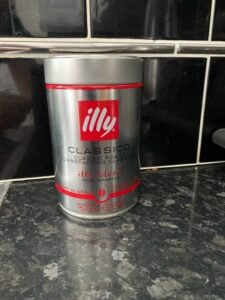 Hey there! Some links on this page are affiliate links which means that, if you choose to make a purchase, I may earn a small commission at no extra cost to you. I greatly appreciate your support!
But, are Illy's classico coffee worthy of their popularity? Let's find out. 
Buy Illy Classic Coffee Beans on Amazon here.
Who Will Like this Coffee?
If you are looking for a classic, well balanced medium roasted arabica bean that has a slight hint of fruitiness to it, you'll love these coffee beans. The taste is not aggressive on the pallet, but it has a strong body and is something you can enjoy every day. This coffee will wake you up in the morning but it won't go too far and blow your head off! 
Specifications
Origin: Blend, 50 different beans used!
Caffeine Content: Medium
Boldness Rating: 7/10
Roast: Medium
Taste Test
Many reviews online claim that the classico coffee bean from Illy has "delicate notes of caramel, orange blossom and jasmine", however these were quite subtle and I found them difficult to pick up. That being said, the coffee definitely has a freshness that is brought out by the citrus notes, which cuts through the earthiness nicely. 
Typically, Italian coffee can be quite dark and bitter tasting, but Illy's classico roast bucks the trend. It is well balanced and refreshing rather than overpowering. I would expect this from a medium roast of any good quality arabica bean of course, but given the reputation that precedes a lot of italian coffee, I was expecting a bit more of a sharp taste. 
That being said, Illy's classico beans are not by any means weak. They simply produce nicely rounded, well balanced, fresh tasting coffee. 
When you first open the tin of Illy classico beans you are greeted with a burst of earthy but sweet aroma that fills the room. You have to peel back the ringed can lid which seals the container for freshness, but also releases a strong, condensed coffee smell. 
To be honest, I was half expecting this coffee to taste quite bitter. Even though it clearly states 'medium roast' on the tin and I know these are well balanced, high quality arabica beans, I just had a feeling that this classic Italian coffee would be a bit overpowering. 
I was wrong. 
Illy Classico was a really well balanced espresso that combined boldness and body with delicate, fruity flavours. The citrus just about cuts through the earthy flavour, although for my liking it could perhaps do with a touch more of this to round out the taste and make it a little more refreshing. 
However, overall the taste from the first sip to the last was recognisably Italian and not as overpowering as I first thought. 
You can definitely tell that Illy have sourced their beans very carefully, despite them using 9 different varieties of arabica in their signature blend. Illy have let the quality of their beans shine here. Unlike the likes of Starbucks who famously roast their beans half to death to gain their characteristic bitter taste, Illy have let the subtlety of the coffee itself do the talking and relied on the quality of their ingredients to produce an outstanding flavour. 
Illy could have easily gone down the dark roast route here, but the fact that they, as an Italian brand, have backed their ability to source great tasting coffee and medium roast is impressive. 
Decaf Version
Buy Illy Classic Decaf Coffee Beans on Amazon Here.
Illy Classico also comes in a decaf version (see below). Sometimes, decaf coffee alternatives can taste a little less strong or even slightly sour to the experienced pallet due to the liquid carbon decaffeination process that takes place. However, this is not the case with Illy Classico. I didn't notice much difference in the flavour or body at all, and the fruity undertones were still present.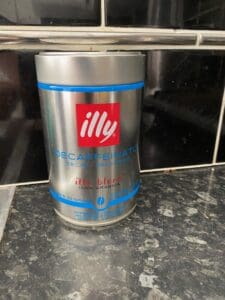 So, if you want to enjoy this staple of Italian coffee without the added buzz, the decaf version won't leave you wanting! 
Recommended Brewing Method
Classic Italian coffee deserves a classic Italian brewing method. I would recommend using an espresso machine to extract more body from Illy's classico blended beans, but equally using a moka pot will do a good job. This will ensure you get the boldness that is so essential to great Italian coffee, without losing the subtleties of Illy's house blend. 
How it Compares to the Competition
Illy is a high quality, mass produced coffee that is seen in many coffee shops around the world. 
Compared to the likes of Lavazza Qualita Rossa for example, Illy classico blend is a little less chocolatey and intense. Where the Lavazza bean is a little more robust and earthy, the Illy bean is more well rounded thanks to its citrus and fruity undertones. 
My Takes
Overall, the fact that Illy, who are a mainstream, mass producer of coffee across the globe have managed to retain such freshness, flavour and subtlety in their classico blend is a feat in itself. It is very impressive to have mass produced a coffee with this level of complexity on such a wide scale. 
Whilst the coffee is not absolutely perfect, compared to its competitors it is far more interesting to drink. There are layers of flavour here and you can simply taste the quality in the beans.