What is Javy Coffee?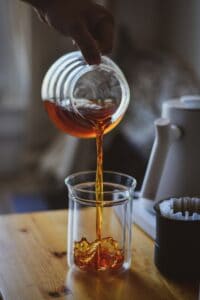 Hey there! Some links on this page are affiliate links which means that, if you choose to make a purchase, I may earn a small commission at no extra cost to you. I greatly appreciate your support!
Coffee comes in many different forms nowadays. From the instant, to pre-ground to decaf, however, you would like to consume your coffee, there is something out there for you. 
However, Javy coffee offers something truly unique. Unlike the traditional methods of producing coffee, Javy distills the essence of coffee in liquid form. They extract coffee flavor through a long, drawn-out drip brew method. This process only uses water so is 100% natural. 
The aim of Javy is to offer an affordable, easy, and convenient way to enjoy both hot and cold brewed coffee no matter where you are. 
Is Javy Real Coffee?
Despite Javy being produced in quite a unique form compared to traditional whole bean or ground coffee, it is actually just a very strong coffee concentrate. 
So yes, Javy is in fact real coffee. It is distilled and concentrated from 100% Arabica coffee beans sourced mainly from Columbia.
Whilst Javy may seem strange or unnatural, it is simply an innovative way to produce high-quality coffee, that won't take up much space in your cupboard! 
Why Buy it…
There are actually a number of reasons to give Javy a try. 
Convenience
One of the major selling points of Javy is just how convenient it is. Unlike a jar of instant coffee, you can easily carry a bottle of Javy around in your handbag or even in your pocket!
This makes great-tasting coffee even more accessible for commuters on the move. 
All you need to do is add 1 or 2 tablespoons to your mug of hot, or glass of iced water and give it a stir for the perfect hot or cold coffee in a matter of seconds! 
Caffeine Content
One tablespoon of Javy coffee concentrate contains just 60 mg of caffeine. This is less than half that of a standard instant coffee, so if you are a health-conscious coffee lover who is looking to reduce caffeine consumption, Javy is well worth a try. 
Flavors
Just because Javy coffee is made from concentrated, pure, distilled Arabica beans, doesn't mean it only has one flavor. Javy actually comes in 5 different varieties: 
Original

French Vanilla

Caramel

Mocha

Decaf. 
Cost
Not only is Javy coffee concentrate convenient, but it is also cost-effective! By micro-dosing your coffee, you can save time and money that would otherwise be spent at that conveniently placed coffee shop just outside your office! 
A bottle of Javy coffee concentrate costs $20.95, but each bottle contains 30 servings. Therefore, you will be spending just under $0.70 per cup of coffee with Javy! 
You can buy Javy Coffee for yourself on Amazon here! 
Summary
Overall, as the coffee industry expands and becomes more mature, there are a wide variety of different offerings to choose from, including ways to produce your coffee. 
Where instant coffee has taken the world by storm thanks to its convenience, Javy seeks to revolutionize the world of coffee by offering a more premium coffee experience. Instant coffee can often be thought of as lower quality and certainly doesn't taste as strong or well-balanced as freshly brewed coffee. 
However, since Javy is simply a coffee concentrate, distilled from pure Arabica coffee beans, it is just as convenient as the instant coffee we all know, but even better tasting! 
Related Questions
Is Javy Coffee just for Cold Brew?
Whilst Javy is great for cold brewing your coffee, it can also be used for a hot beverage and works just as well. 
Does Javy Coffee contain Sugar?
Nope, Javy is sugar-free since it is simply highly concentrated, drip-brewed, pure Arabica coffee! 
What are the benefits of Javy Coffee?
There are a number of benefits to using a coffee concentrate like Javy. These include cost savings, unmatched convenience, a variety of flavors, and high-quality, naturally concentrated coffee!