9 Best Decaf Instant Coffee of 2022 (Ranked and Reviewed)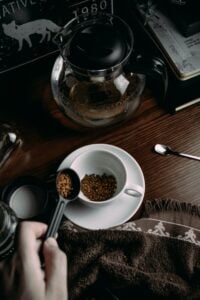 Hey there! Some links on this page are affiliate links which means that, if you choose to make a purchase, I may earn a small commission at no extra cost to you. I greatly appreciate your support!
Instant coffee often gets a bad wrap as it is seen as lower quality than freshly ground coffee beans. Whilst instant coffee is of course way more processed than fresh beans themselves, this doesn't mean it should be looked down on! 
Instant coffee still has its place in the coffee world, even if you prefer decaf. Instant coffee is great for when you need a quick pick me up as you're rushing out the door to work or are catering to large groups of people. Even if you simply want a quick and fuss-free way to make your cup of coffee and don't have any machines or brewing equipment available. 
As the coffee industry has become more and more competitive, with huge brands expanding their offerings, decaf instant coffee has risen in quality. You can now get decaf instant in a wide array of different blends, roasts, and flavors. 
What is Decaf Coffee?
Drinking decaf coffee is a great way to reduce your overall caffeine intake, which is something that is becoming more common as coffee lovers become more health conscious. 
Whilst many believe that decaf coffee tastes different, this is often not noticeable. For lower quality coffee, it may be a little more sour tasting than regular caffeinated coffee. However, most people that drink high-quality decaf will struggle to tell the difference as the flavor change is so minor. 
Why Buy Decaf Instant Coffee?
If you love the taste of great coffee but simply want the quickest and easiest way to get your hands on it, without the caffeine, then decaf instant is the way to go. Not everyone is that bothered about having the absolute tip-top coffee-tasting experience every single day, and that's okay. Simply wanting a fast and straightforward cup of coffee that happens to not have any caffeine in it shouldn't mean you have to skimp on flavour. 
This is definitely the case with the 9 best decaf instant coffee picks in the list below! 
9 Best Decaf Instant Coffee of 2022 
The top pick for the best decaf instant coffee is Nescafe with their Gold Blend decaf. Nescafe produces some of the best quality and best-tasting instant coffee out there, and they have followed suit with their gold blend. 
Nescafe has combined both arabica and robusta beans to offer a dark and rich, yet smooth and flavourful decaf instant coffee. This comes in a sealed gold tin to lock in the flavor, so you get fresh-tasting coffee every time.  
This gold blend from Nescafe is very finely ground, to the point of being powder like. This ensures it is silky smooth, enhancing the luxurious mouth feel. Whilst the flavor is definitely bold and strong, it is not overwhelming. Coffee brands will often load up their decaf blends with overly harsh flavors to try and compensate for the lack of caffeine. Nescafe has avoided this trap with their gold blend, retaining plenty of that familiar nuttiness and clean coffee taste. 
Waka Coffee uses exclusively arabica coffee beans from Columbia, so you know what you're getting is great quality. This is even true of their freeze-dried instant decaf, which has that familiar nuttiness, body, and citrus aftertaste of Columbian coffee beans. 
Waka uses sustainable packaging for both its outer box and individual coffee servings, so not only are you enjoying the great-tasting coffee, but you're also doing your bit for the planet as well! 
As far as instant decaf coffees go, Mount Hagen is up there with the best. The freeze-dried ground beans are surprisingly good for an instant due to their above-average strength. 
There is a boldness and depth to Mount Hagen decaf that gives it a full-bodied, earthy flavor. Not many other decaf instant coffees out there can compete with the punch that Mount Hagen decaf packs! However, it is not all face and no trousers. There is plenty of nutty and subtle chocolate flavor that can be picked up if you keep Mount Hagen's Organic decaf coffee in your mouth for long enough. 
Nescafe Azera bucks the instant coffee trend with its extremely finely ground, powder-like Americano blend. The decaf version tastes just as good but comes without the caffeine fix. Azera has a distinctively strong, full-bodied flavor that is a little more abrasive on the pallet than its Gold Blend for instance. 
You'll spot Nescafe Azera decaf a mile off with its distinctive bright orange lid and silver tin packaging. As far as taste goes, Azera is silky smooth and bold, just like a regular americano. Unlike many other decafs coffees out there, Nescafe Azera combines both Arabica and Robusta bean varieties to offer a punchy yet velvety drinking experience. You even get crema! 
Traditionally, Italian roasted coffee tends to be quite bitter and strong in flavor. You would think therefore that a decaf variant would lose some of this strength and actually be quite unpleasant to drink, sitting in no man's land. 
However, if there is anyone that can make a punchy, dark-roasted decaf coffee taste like the real thing, it's Starbucks. Their Italian roast decaf is a great value option for those that want to enjoy that familiar Starbucks taste without the added head rush. They come in single-serve packs so can be enjoyed on the go. 
This coffee has quite a strong aroma which contributes to its bold, bitter flavor. This may be a bit abrasive for the more sensitive palate, but if you're a Starbucks lover you'll be right at home with their Italian roast decaf! 
A relatively unknown brand Little's making the list of the best decaf instant coffee may come as a bit of a surprise, but the proof of the pudding is in the drinking! Their Premium Brazil instant decaf coffee has a delicate nuttiness to it that is refreshingly mild. Despite this, there is a depth of flavor that lingers on the back of the pallet and leaves you wanting more. 
Little's uses 100% premium arabica beans in their decaf instant coffee, so you are guaranteed top-quality ingredients. Little's specializes in flavored coffee, from hazelnut to vanilla to orange, so give them a try! 
Another decaf instant that is on the more delicate side, is Nescafe Taster's Choice. These come in single-serve packets and are robust enough to taste like fully caffeinated coffee, but don't insult your palate and try to blow your head off with excessive bitterness. This is a pretty refreshing decaf coffee to drink, a far cry from some of the more potent members of this list. 
For a decaf instant coffee, Nescafe Taster's Choice has a pleasant, full-bodied feel. The fruity aftertaste really lifts this coffee and gives it more sippable credentials. 
Another organic, fair-trade coffee on the list is Cafe Altura decaf. This instant coffee is a low-acid choice that is light in flavor, making it a great breakfast blend. It is not a particularly strong coffee so is perfect for people that want to sit back and enjoy the moment with a more subtle blend. 
Cafe Altura decaf has that classic nutty taste without the added harshness or bitterness of some of the stronger, dark-roasted coffees on this list. 
Another top-quality instant decaf coffee to round out the list is Douwe Egberts decaf instant. This classy, high-quality coffee has a rich, creamy, and fresh aroma that permeates the room as soon as you open its signature glass jar. 
Douwe Egbert's freeze dries their coffee to preserve its signature flavor, and the medium roast has a distinctive nutty taste with a smooth finish. 
Summary
Overall, instant decaf coffee may sound like a disaster in flavor for many die hard coffee lovers out there. The lack of caffeine combined with the highly processed nature of decaf coffee may be enough to put off a purist. 
However, there are plenty of high-quality decaf instant coffees out there if you know where to look! The best way to stop your coffee from becoming overly bitter, is to add a splash of cold water into the bottom of the mug, along with your instant coffee and give it a stir. This stops the coffee from burning and preserves the natural flavour, so you taste the coffee as the manufacturer intended! 
It is difficult to say exactly which decaf instant coffee is the best, as this completely comes down to personal preference. Some people prefer dark roasts that are more bitter, whereas others prefer a lightly roasted breakfast blend that can be enjoyed over a longer period, whilst reading the newspaper. 
However, whichever decaf instant coffee you go for, make sure it is high quality, fair trade, and organic if possible! 
Related Questions
Is decaf instant coffee bad for you?
Whilst decaf instant coffee may get a bad wrap in terms of quality and flavor, there is certainly nothing wrong with it from a health and safety perspective. Some people think that because it is highly processed that it is somehow bad for you, but this is not the case. There has been no tangible, significant evidence to suggest that drinking decaf instant coffee will cause you any ill health or harm. 
Can you drink decaf coffee all day?
First off, it is simply the caffeine in coffee that keeps you up at night, not the coffee itself. Since decaf coffee by law must be 97% free of caffeine in the US, and 99.9% caffeine free in the EU, you can safely drink it throughout the day, even into the evening, without it having any impact on your sleep quality at night.