European Bartender School 1 Day Coffee Course – My Experience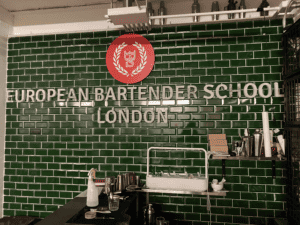 Hey there! Some links on this page are affiliate links which means that, if you choose to make a purchase, I may earn a small commission at no extra cost to you. I greatly appreciate your support!
Whether you are a coffee enthusiast, aspiring barista or experienced coffee professional, the European Bartender School's 1 day coffee course is a great way to sharpen your coffee credentials. 
This internationally recognised course covers the fundamentals of green coffee cultivation, processing, roasting, brewing, barista art and much more. 
I attended the 1 day coffee course myself, and found it to be insightful, entertaining and informative. The course was packed with useful information that will help improve the quality of my coffee content going forward, as well as my understanding of the industry as a whole. 
So, if you are considering giving the European Bartender School coffee course a go, check out my experience so you know exactly what to expect. 
Who Are the European Bartender School?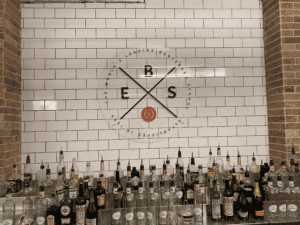 The European Bartender School was established in 1999 and has been the world's leading bartender education company ever since. They operate out of 25 centers around the world, sharing knowledge across 5 continents. 
Whilst EBS's speciality is international bartending, they also have some pretty great coffee and barista courses too. 
It's fair to say that the European Bartender School knows a thing or two about putting on high quality courses, run by industry leading bartending experts. Even their entry level 1 day barista coffee course is no exception. 
As a coffee enthusiast, I wanted to dip my toe into the world of barista training, so the 1 day course was enough for me. However, the 5 day barista course is a lot more intensive and focuses more on the practical side of making coffee. 
You'll learn the same sort of information in both courses, but the longer training programme affords more time for practicing latte art, getting to grips with espresso extraction and dialing in brew time. 
My instructor for the day was Arsham Saadati, a former cappuccino barista champion originally from Turkey. He was a very interesting, enthusiastic and informative instructor that gave us all an insight into Turkey's rich coffee history, along with the best way to make different espresso based drinks. 
EBS offer many qualifications, and are industry leaders in the gastronomy, bartending and barista officiating space. 
What is Their 1 Day Coffee Course?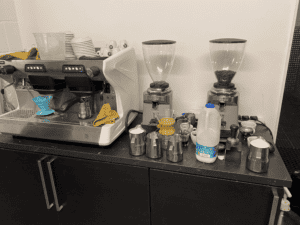 The European Bartender School offers a range of different courses, but their entry level coffee based course spans just a single day. This makes it incredibly accessible for coffee enthusiasts and aspiring baristas alike. 
Hosted in EBS's London cocktail making school in the heart of the city, their quirky underground office space provides an intimate setting for coffee lovers to hone their craft. 
EBS London is situated between Bermondsey and Tower Bridge, in Marden Square business park, so is easily accessible by tube, train or bus. 
EBS's 1 day coffee course strikes a great balance between theoretical and practical experience, educating you on where coffee comes from, how it is processed and how to make some of the most popular coffee drinks out there. 
This course was created by industry leading coffee experts, created by Dr. Andrej Godina and Fabio Milani
Dr. Godina holds a PhD in the science, technology and economy of coffee and is a professional coffee taster. Check out this cool piece of content Dr. Godina made along with De'Longhi on their Youtube Channel below: 
Fabio Milani is another coffee expert that specializes in 'flair' barista work. Flair bartending is a fairly old concept, but has been modernized and commercialized in recent years in the form of the World Flair Association. 
Fabio Milani took flair bartending to the next level and essentially founded a new category, involving coffee. 
Milani has revolutionized the barista world, fusing it with the ever growing popularity of performative bartending. 
It is safe to say you are in good hands with Fabio and Andrej at the helm! 
Who it is Aimed At
The 1 day EBS coffee course is an entry level caffeinated experience for keen baristas and coffee nerds alike. 
If you love your latte but also want to perfect your pour over skills, then the 1 day coffee course by EBS is definitely for you. 
If you are looking to open a coffee shop in the future, have aspirations of taking your barista skills to new heights or want to take a more practical approach to coffee making, then their 5 day barista course would suit you better. 
This is a more intensive and in depth version of the 1 day coffee course, and focuses more on perfecting barista art and pulling exquisite shots of espresso going beyond the basic information covered on the single day version. 
If you want to get into making better coffee at home, are looking to pursue a job as an entry level barista or simply want to impress your friends with your new found coffee knowledge, the 1 day coffee course by EBS is a good choice.
Course Contents
There were a wide variety of topics covered on the European Bartender School's coffee course. On their website, they mention that you'll be taught all about different coffee drinks, roasting profiles and how to make espresso.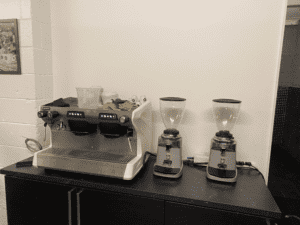 However, you'll also learn: 
How coffee is grown

How coffee is washed

How different methods of picking and washing coffee impact taste

Coffee bean varieties

The history of coffee's trade

The difference between speciality and commodity coffee

The anatomy of arabica vs robusta beans

Coffee brewing methods and their recipes

How temperature, dose, grind size and brew time all impact coffee taste

Tamping espresso

Dialing in espresso

Barista art

How to taste coffee

First vs second vs third wave coffee movements

How to steam milk

Traditional coffee drinks

Coffee origins.  
Costs
The cost of the EBS 1 day coffee course was just £97. 
This included a certificate of completion and full access to all training equipment
My Experience
Personally, I thoroughly enjoyed my time on the EBS 1 day coffee course. 
It opened my eyes and gave me a taste of the coffee world that I had never experienced before. There was enough information packed into the day to provide real value, but a broad range of topics covered which left you wanting more. 
It definitely piqued my interest and made me curious. 
There are plenty of new and exciting coffee topics that I now want to research, learn and create content about. 
My instructor Arsham made the day. 
He was incredibly knowledgeable, full of personality and brought the course content to life. 
I would definitely recommend checking out the EBS 1 day coffee course, or even consider signing up to the 5 day barista course if you so desire. 
Here are some more photos I captured from the day: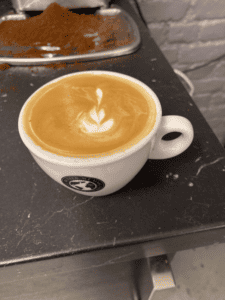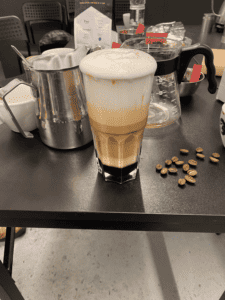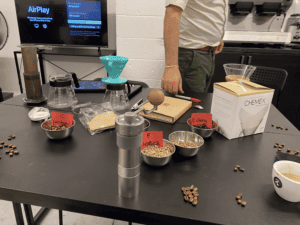 Summary
Overall, the European Bartender School's 1 day coffee course is a fantastic entry level experience put on by the world's leading bartending authority. I had a great time on the course and would definitely recommend it for any coffee enthusiasts that want to take their knowledge to the next level. 
It will definitely get you thinking about all the different aspects of the coffee industry that go far beyond simply drinking a cup of joe at your local cafe. 
You'll learn the fundamentals of the coffee industry, how to make and drink better coffee, and hopefully meet some fellow coffee enthusiasts along the way!