9 Best Decaf Ground Coffee of 2022 (Ranked and Reviewed)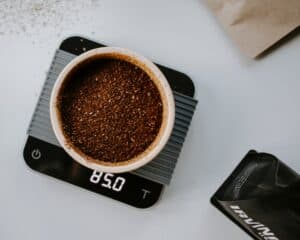 Hey there! Some links on this page are affiliate links which means that, if you choose to make a purchase, I may earn a small commission at no extra cost to you. I greatly appreciate your support!
Ground coffee is a convenient way to get that great taste in the morning without having to grind your beans from scratch. You can get a specific grind size to suit your brewing method, so you are guaranteed a perfect cup of coffee every time. 
Decaf coffee can have a bit of a reputation for not tasting as good as regular, caffeinated coffee. However, with so much competition in the ever-growing coffee industry, there are specialty roasters that produce great-tasting ground decaf beans, pre-ground for your convenience!
Most Punchy:
Saula Premium Decaffeinated Ground Coffee
Best Flavour:
Exhale Organic Decaf Coffee
What is Decaf Coffee?
Decaf coffee is an incredibly popular substitute for regular caffeinated coffee, especially for elderly people, those that suffer from anxiety or those that simply have enough energy to get through the day without a cup of joe! There are many reasons that people drink decaf, including stomach issues, insomnia, caffeine intolerance and simply wanting to reduce overall caffeine intake. 
You may be wondering how the caffeine is taken out of coffee in the first place. Well, the coffee decaffeination process happens after the beans themselves are harvested. Before they are dried they are steamed for a longer period of time than regular coffee, in order to strip the ripe coffee fruit of their caffeinated oils. There are a few different methods of coffee decaffeination, all yielding slightly different results. 
Decaf coffee is thought to be a little more sour tasting than regular caffeinated coffee. However, most people that drink it will struggle to tell the difference as the flavour change is so minor. When you are dealing with high quality, naturally processed coffee, there are hardly any differences in taste worth speaking about. 
Why Buy Decaf Ground Coffee?
Whilst buying your own whole beans gives you the most control when it comes to brewing coffee from home, having them pre ground can save you time and effort when you simply want a great cup of joe to go! Having your coffee pre ground also means you will get a consistent cup time after time, as the expert roasters have already chosen the perfect grind size for your chosen brewing method. This takes a lot of the fuss and variability out of making your own great quality coffee! 
9 Best Decaf Ground Coffee of 2022
From the small, relatively unknown organic coffee roaster Jo Coffee comes a fantastic dark roast that has many layers of flavour. Jo Coffee is a fairtrade certified coffee was originally started by Speciality Java as a way to serve fantastic specialty coffee to the online coffee market through Amazon. Jo takes taste seriously. However, the brand has grown massively in the US and now is becoming more and more recognised for its high quality, speciality organic coffee. They even use the Swiss Water process of decaffeination to ensure the underlying coffee flavours are preserved, whilst also keeping their coffee chemical free. 
They use professional cuppers to taste each and every coffee variety they produce, to ensure you get the highest-grade coffee possible. Their dark roast decaf is deliciously rich and earthy, with notes of blueberry and sweet chocolate shining through on the finish. This punchy yet complex decaf coffee takes the top spot on our list. 
Many coffee manufacturers these days claim to have the best quality, most ethically sourced, or most organic coffee on the market. However, it is a rare sight for a coffee brand to claim to offer 'healthy' coffee. 
However, this is exactly what Exhale does! Their decaf coffee in particular is packed with antioxidants, vitamin B3, and polyphenols. Whilst these substances are readily available in all ground coffee, Exhale specifically sources the highest quality beans to ensure they are as nutrient-rich as possible. 
Their decaf coffee is of a single origin that comes from Cajamarca, Peru. As far as taste goes, Exhale's organic decaf coffee doesn't disappoint. Since it prides itself on offering the most natural coffee out there, you can really taste the underlying coffee flavors. Notably, you get that familiar nuttiness and chocolate flavor that is apparent in most great medium roast arabica beans. But, to cut through the richness, Exhale's decaf also has undertones of fruit and a hint of citrus to round it off. 
You can get Exhale's organic decaf coffee in either a medium or fine grind, so no matter how you like to brew your coffee, they've got you covered! 
A classic Italian coffee on the list of the best decaf coffees of 2022 is Illy's ground-roasted signature blend. There is no noticeable difference between this and the caffeinated version, so you'll still get those familiar nutty flavors with hints of citrus and floral undertones. 
Much like Illy's Classico Beans, their ground-roasted decaf strikes a nice balance between strength and delicate flavors. This is a very well-rounded decaf that is highly rated across the internet. If you're looking for a solid all-rounder that is actually quite reminiscent of a breakfast blend, give this a try!
A sweet and citrusy decaf number comes from Cafedirect with their Machu Picchu Fairtrade Ground coffee. Pre-ground specifically for filters and french presses, this decent decaf is a coffee that gives back to its suppliers. Some fruitier coffees these days can actually taste more like fruit tea than a regular cup of joe! 
However, Cafedirect has got the balance right here and retained just a hint of sweet orange flavor, which rounds the drink out nicely. The Peruvian, single-origin beans are carefully picked and ground to a universal size. This coffee pairs nicely with milk, but to get the full taste sensation, try it black. 
Another household name that makes great decaf coffee is Peet's. Their Major Dickinson blend is a dark roast decaf that packs a serious punch. One of many decaf options from Peet's, the Major Dickinson Blend has a robustly smoky flavor with a hint of spicy at the back of the throat. Peet's doesn't hold back with the bold flavors here, that's for sure! If you like a dark roast but don't want the Major Dickenson Blend to take your head clean off, then add a dash of milk to settle it down a bit. 
If you're looking for a vibrant cup of coffee that will wake up your taste buds, minus the caffeine, this is a great one to go for! 
For coffee lovers that enjoy that dark, earthiness of an Indonesian bean but want to leave the caffeine to one side, Volcanica Sumatra Mandheling is a great choice. These top-tier single-origin beans from various small farmers in the volcanic region of Mount Leuser, Indonesia, fall on the darker side of a medium roast and are smokey and rich in flavor. 
You'll also find that the subtle undertones of chocolate and dried fruit give the Sumatra Mandheling decaf blend a cleaner aftertaste. This is another decaf that tastes great on its own, especially if you drink it long and want to savor the mouth-watering flavors. 
For a classic, well-balanced decaf coffee from a reliable manufacturer, you can't go far wrong with Seattle's Best Decaf Coffee Portside Blend. Their 100% Arabica beans are blended exclusively from Latin American sources. These caffeine-free beans offer a great bang for your buck and are a solid all-rounder.
You'll find a classic nutty taste of a medium-roasted coffee, and will be hard-pressed to choose between this and the regular caffeinated version! For such a big brand, you'll find a surprising depth of flavor in their Portside Blend. 
Salula Premium Decaf Ground Coffee combines four different high-grade arabica coffee beans to make their caffeine-free grounds as great as can be! This award-winning decaf coffee packs a punch and the strong aromas waft out at you as you open the reusable tin! It is also pretty appealing as a kitchen decoration by the way!
The Spanish brand pride itself on its velvety smooth taste and rich, creamy mouth feel. However, there is still plenty of punch and full-bodied, roasted flavor that lingers on the aftertaste. 
This small, independent, specialty coffee roaster based in Southampton, UK, produces some of the best decaf coffee going. Their no-frills approach to offering great coffee is pretty refreshing these days. SORoast offers subscription services, and a multitude of different bean origins and you can even purchase coffee in person from their store! 
Their high-quality blend of decaf beans from Honduras and Ethiopia join together to create a smooth and full-bodied, yet sweet and fruity cup. They use the sparkling water method to wash their coffee beans and remove the caffeine, helping to maintain as much of that subtle, natural flavor as possible. 
The flavors you will detect include smooth milk chocolate, nuttiness, and biscuit, along with delicate undertones of sweet raspberry and juicy watermelon. 
Summary
Overall, ground coffee provides a fuss-free way to indulge in great-tasting coffee from the comfort of your own home. No matter how you like to brew your coffee, you can find a grind size to suit you. There are a number of big brands and independent roasters that offer high-quality, specialty ground decaf coffee. 
As the world becomes more and more health conscious, decaf coffee has become increasingly popular. But, this doesn't mean you have to skimp on flavor. 
Look out for darker roasts like Peet's Coffee Major Dickinson Blend or Saula Premium Decaf with robust flavors and smokey aftertastes if you want a real kick without the caffeine. 
Or, if you are looking for more of a slow burner that places the emphasis on subtle flavor combinations than blowing your head off, give SORoast or Exhale decaf a go!
Related Questions
Does grind size matter? 
Yes, a lot! The grind size of your coffee plays a major role in how the coffee is extracted when you add water to the raw grounds. An in-depth look at coffee grind sizes is for another article, but here's a high-level view. Larger coffee granules that come from a coarse grind, are best for water submersion methods of brewing, such as french press or Aeropress. Medium grind sizes are best for drip brew and moka pots, and fine grinds are best for espresso and percolators. 
What is the healthiest decaf coffee? 
The healthiest decaf coffees are those that use the all-natural Swiss Water method of caffeine extraction. This is chemical-free and retains as much of the natural coffee flavor as possible. Most organic and high-quality coffee roasters will use this method in order to keep their products as fresh as possible. 
Which decaf coffee is the least bitter? 
In general, the least bitter coffee beans will be light or medium roasted. Avoid the dark roasts like Starbucks use and you'll stay on track for a more mellow flavor. 
Light and medium roasts let the natural coffee flavors do the talking, and many mass-produced brands tend to overroast their beans. This gives that bitter and almost burnt taste that can be unpalatable for some. 
In terms of decaf, go for a light roast or breakfast blend, as these will avoid the common trap that coffee brands fall into. Blasting their coffee beans to make them taste strong and punchy, in order to make up for the lack of caffeine. 
How much caffeine is in decaf coffee? 
Despite being the name, decaf coffee is not 100% caffeine free. 
U.S. law states that decaf coffee legally has to be 97% caffeine free, whereas EU law states decaf must be 99.9% free of caffeine.