11 Best Decaf Coffee Pods of 2022 (Ranked and Reviewed)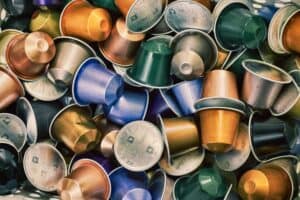 Hey there! Some links on this page are affiliate links which means that, if you choose to make a purchase, I may earn a small commission at no extra cost to you. I greatly appreciate your support!
Coffee pods have taken the world by storm in recent years! Their ability to deliver great quality java at the click of a button really sets them apart from any other form of brewing coffee!
This is also helped by the fact that pod machines are relatively inexpensive to buy, especially when compared to traditional espresso machines and specialty coffee machines. Pods offer a quick, easy, and cheap way to get great-tasting coffee at your fingertips, from the comfort of your own home.
However, just because you may not want that caffeine rush, doesn't mean you can't enjoy the satisfying taste of great coffee. That's why I have compiled a list of the best decaf coffee pods money can buy!
What is Decaf Coffee?
Decaf coffee is an incredibly popular substitute for regular caffeinated coffee. Whether you have a caffeine intolerance, want to reduce your overall caffeine intake, suffer from anxiety, or simply want to enjoy that delicious cup of coffee later on in the day, decaf can be a real lifesaver! Even if you have enough energy to get through the day without the caffeine from a cup of joe, you may still love the great taste of coffee.
However, decaf coffee has a bit of a reputation for being less than desirable in the taste department. Decaf coffee is generally thought to be a little more sour tasting than regular caffeinated coffee. However, most people that drink it will struggle to tell the difference as the flavor change is so minor, especially with top-quality coffee.
Why Buy Decaf Coffee Pods?
Coffee pods in general are small, single-serve capsules that contain finely ground coffee beans. They provide optimum convenience for coffee lovers to indulge in their favorite drink at a moment's notice. Decaf is no different. Just because you may want to avoid caffeine, doesn't mean you have to avoid any flavor!
If you have a K-Cup, Nespresso, or Dolce Gusto compatible coffee machine, you'll be able to whip up a great tasting, high-quality coffee, complete with crema in literally seconds.
The top-quality coffee capsules below offer a great blend of convenience and quality. You won't find any sour or overly bitter coffee here!
11 Best Decaf Coffee Pods of 2022
Nespresso is pretty much the king when it comes to coffee pods. So many coffee machines these days are made specifically to suit their pods, they do have a real monopoly on the coffee pod sector.
So, it is only right for their coveted decaf pod to sit at the top of this list. The packaging is incredibly up-market, the coffee itself is rich and creamy and the whole drinking experience just oozes excellence! The very Italian Firenze Arpeggio Decaffeinato is a medium roast that has a dark, rich, and velvety texture. The blend is made up of beans from both Arabica and Robusta beans from South and Central America to give the coffee a more intense flavor.
In terms of its flavor profile, you'll get a dark and intense earthiness from the Nespresso Firenze Arpeggio Decaffeinato. However, unlike a Starbucks Dark Roast, the coffee is not bitter or overly harsh. It is rounded out nicely with a smoothness at the end that caresses the pallet rather than assaults it.
Check the Latest Price on Amazon. 

Another Italian stallion of a coffee brand is Illy. They have been producing great coffee for decades and have converted their most popular coffee blend into Nespresso-compatible pods!
Their Classic Decaf is an extremely well-balanced drink, even in K-Cup form. You don't miss out on any of that familiar chocolate flavor or nuttiness, that is so familiar with Illy's Classico blend. You even get the subtle citrus undertones!
This is the most convenient way to drink Illy's Classico coffee in decaf form, and it's something I'm very much on board with!
Check the Latest Price on Amazon.
Dolce Gusto capsules are slightly bigger than K-Cups and tend to offer a wider range of drink options. Specialty coffee is usually reserved for pods, but the Nescafe Dolce Gusto Lungo Decaf is a great option, minus the caffeine.
This is a similarly smooth and nutty coffee as the original, except there is no caffeine involved. The beans themselves originate from Brazil and Columbia, two of the powerhouses of the coffee industry. This full-bodied coffee is not necessarily the boldest or strongest out there, but it is very well-balanced. It is equally enjoyable with or without milk but also doesn't need a sweetener to balance it out.
The pods are specifically designed to preserve freshness, and you can certainly taste the difference!
Check the Latest Price on Amazon.
These delicate light roast organic coffee pods from CRU Kafe are so convenient when you want a sweeter, more subtle-tasting cup of coffee. Not everyone wants their head blown off by the world's strongest coffee every morning, even if you are foregoing the caffeine!
CRU Kafe offers an alternative that lets the natural coffee flavors do the talking.  The aluminum pods offer optimum freshness so you'll always get the perfect taste. They are also completely recyclable so you can do your bit for the planet too!
CRU Kafe Organic Coffee Pods are finely ground Arabica beans, featuring an airey milk chocolate flavor mixed with cashews and an almost biscuity undertone. Being lightly roasted, these pods are best enjoyed as they come, straight out of the box as an espresso shot or long black.
Check the Latest Price on Amazon.

Caravan Coffee Roasters is a London-based company that offers delicious decaf coffee pods. The roaster celebrates local Colombian farmers and actually uses the by-products of sugar cane production to enhance their coffee cultivation. This is what gives their decaf coffee its unique, sweet flavor.
Speaking of which, this is a mouth-watering coffee that would pair very well with a sweet treat! Caravan's decaf coffee possesses notes of sweet pear, maple syrup, and rich chocolate. This gives it a rich, full-bodied sweetness with just a hint of sweet fruit that rounds it out. A very satisfying coffee to drink from start to finish!
Check the Latest Price on Amazon.
If you're looking for an intense pod coffee built for espresso but without the caffeine, look no further than the L'Or Ristretto variety. These are as strong as you can get from L'OR, and they certainly pack a punch!
Sure, they are slightly weaker than their caffeinated counterparts, but as far as decaf pods go they are rocket fuel! If you are looking for a strong coffee that will give you the same taste as intense as regular caffeinated coffee but without the head rush, this is the one for you.
Check the Latest Price on Amazon.
The Original Donut Shop Decaf Coffee is a slightly more left-field choice but one that is certainly popular. These K-Cup, medium roast coffee pods are surprisingly tasty and allow you to bring that sweet smell of fresh ground coffee into your own home! Their coffee is surprisingly good! It has a good body to it but isn't overly complex in terms of its flavor profile.
Reminiscent of the in-store experience, The Original Donut Shop Decaf Medium Roast coffee pods have a distinct strength that is needed to cut through sweet treats! The coffee is not overly harsh though, as it still retains a certain smoothness that makes it easier on the palate.

Check the Latest Price on Amazon.
For a more subtle and refreshing decaf coffee to start your morning, Green Mountain Breakfast Blend is a great place to start. Their light roast coffee pods are a break away from some of the bold java out there, offering a more delicate and refined taste. The taste is incredibly well-balanced and really lets the natural nuttiness and smoothness shine.
Just because you may be in a rush or limited on coffee equipment doesn't mean you can't sit back and enjoy the moment. As is usual with a breakfast blend, Green Mountain delivers a more mellow way to start the day, just without that caffeine rush.
Check the Latest Price on Amazon.
Peet's Coffee is a major household name, but that doesn't detract from the sheer quality of their House Blend decaf coffee pods. These top-shelf, single-serve pods simply offer great coffee in every cup.
They have a full-bodied flavor that you wouldn't guess is decaf. Peet's dark roast beans are surprisingly well balanced, offering a nice blend of rich earthy flavor and subtle sweetness to round them off. The natural boldness of the dark roasted beans compensates for the lack of caffeine or acidity in these decaf pods. However, they don't go overboard and make it all about strength and bitterness. There is a robust enough flavor to keep you on your toes, but not so much as to ruin the experience.
Check the Latest Price on Amazon.
This classic medium roast, fairtrade coffee from Kirkland offers a punchy kick from their finely ground beans. The flavor aires more towards a dark roast than a traditional nutty medium, thanks to its slight edge of bitterness. Whilst this makes up for the lack of caffeine, the delicate flavors have not been forgotten about.
There are still notes of raisin and cocoa that lift this coffee and make it more of a palatable all-rounder. The coffee from these pods will go nicely with milk but are actually flavourful enough to be enjoyed black too, despite its robust flavor.
These pods are specifically designed for Keurig machines, so can be enjoyed even if you're rushing out the door!
Check the Latest Price on Amazon.
These Nespresso-compatible decaf coffee pods from Tim Hortons offer a well-balanced, yet bold flavor profile.
Their signature blend, medium-roasted coffee offers that familiar taste from the comfort of your own home! These Keurig-compatible coffee pods are the perfect way to start the day, offering plenty of flavor depth with a well-balanced finish.
Check the Latest Price on Amazon.
Summary
Overall, coffee pods are a very convenient and fast way to enjoy coffee that is high quality and tastes great. You don't have to compromise on flavor, even if you're going decaf!
With so many great decaf coffee pod options out there, picking an overall winner can be difficult. Whilst Nespresso's decaf pod sits at the top of my list, there are plenty of other choices out there and some may even suit your tastes better.
The Nespresso decaf pods are dark and intense, but also smooth. However, some others take robust flavors to the next level and seek to blow your head off with every sip! Conversely, some of the lighter roast decaf coffee pods out there want to allow the natural sweetness and nutty or fruity flavors of their coffee beans to shine through, despite them taking pod form.
So, it is definitely worth trying out a few different decaf coffee pods to find out which one is the best for you!
Related Questions
What is the best and healthiest decaf coffee?
Generally speaking, coffee that uses the Swiss Water process to remove its caffeine is considered the highest quality, safest and healthiest. This is because the natural method of washing green coffee beans in hot water over an extended period of time removes caffeine by osmosis. It, therefore, removes 99.9% of the caffeine from coffee in a completely natural, chemical-free way.
Check out the 7 health benefits of drinking decaf coffee here! 
What is the difference between Dolce Gusto and K-Cup coffee pods?
Dolce Gusto is a larger coffee capsule that houses coffee grounds encased in filter paper that covers the entire inner casing of the capsule. Whereas, a Nespresso K-Cup pod has a self-contained filter. Most K-Cups are also fully recyclable and tend to offer a larger array of specialty coffee, whereas Dolce Gusto tends to offer a wider range of alternative drink options.
Here are two useful articles on the topic:
https://www.haymancoffee.com/blogs/coffee-blog/nespresso-pods-vs-dolce-gusto-what-s-the-difference
https://coffeeaffection.com/coffee-pods-vs-k-cups/
Is decaf coffee full of chemicals?
Nope, not at all! Whilst some chemicals are used to extract caffeine from coffee in certain brewing methods, these may only ever be transferred onto your decaf coffee beans in trace amounts. What's more, the vast majority of high-end decaf coffee beans don't even use chemicals to decaffeinate their coffee, so there's nothing to worry about!