7 Reasons Why Australian Coffee Tastes So Damn Good!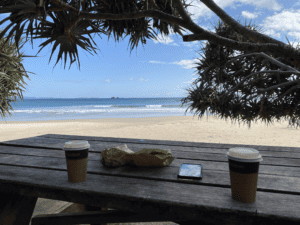 Hey there! Some links on this page are affiliate links which means that, if you choose to make a purchase, I may earn a small commission at no extra cost to you. I greatly appreciate your support!
When you think of Australia, you may picture the Sydney Opera House, Bondi Beach or Ayers Rock. All of these legendary landmarks are world-famous and major attractions for tourism. 
However, another of Australia's most sought after outputs is in fact… Coffee! 
Australian coffee is becoming more well known around the world year after year. The signature smoothness and subtlety of flavor, balanced with punchy caffeine kick gives Aussie coffee a unique and appealing taste. 
Having tried Australian coffee in London myself multiple times, I got the chance to go down under myself on a recent trip to see a great friend of mine. This gave me the opportunity to immerse myself in Australian coffee culture and experience its origins first hand. 
Many coffee lovers around the world hold Australian coffee in high regard, so much so that Australian owned coffee shops are starting to pop up in major coffee drinking cities like London and New York. 
But, what exactly is it that makes Australian coffee so damn good? 
Well, let's dig a little deeper and find out!
What is Australian Coffee?
In Australia, coffee is much more than just a morning pick me up. It is a way of life. Whilst that may sound very cliche, it is actually true!
Coffee in Australia has a rich history and has formed a cornerstone industry across the island. 
Australian coffee can trace its roots back to Italy, often seen as the mecca of coffee in Europe. The rich, full bodied flavors coupled with the smoothness and balanced aromas make Italian coffee so palatable. 
In fact, coffee in Australia has been influenced by the Americans, Greeks, and Italians, so there really is an eclectic mix of contributors to this thriving culture. 
Coffee in Australia is also big business. According to Statista 2023, "Revenue in the Coffee segment amounts to US$6.93bn in 2023. The market is expected to grow annually by 3.41% (CAGR 2023-2025)."
So, where did all this fanfare about coffee in Australia come from?
History of Australian Coffee
In the 1940s during WWII, American and Italian soldiers were posted to various parts of Australia and this is where the original coffee culture was born. 
American soldiers actually brought the Americano (freshly brewed espresso diluted with hot water) to Italy during the second world war, and both of these cultures had a heavy influence in what has now become one of the most vibrant coffee cultures in the world. 
This article by Jason Allen via The Nudge "Why Australian Coffee is the Best on the Planet" (April 2016) highlights the influence of Greek and Italian families introducing the stovetop moka pot to Australia. These migrant families actually used their rudimentary coffee makers to brew rich, flavourful espresso. This was a far cry from the drip and filter coffee that these pots were traditionally used for, bringing potent espresso to the Australian masses.
Another major step forward in the brewing of the Australian coffee scene, according to Joey Watson of ABC.net News "The world is hooked on Australian coffee culture. This is how it got so good" (December 2019), was the introduction of Gaggia coffee machines. These spring loaded coffee machines brought much more consistent brews, allowing Australians to enjoy high quality espresso time after time. 
Whilst Australian coffee culture has ties with some of the most influential coffee nations on the planet, it would take a couple of generations for the industry to really start booming. 
This is because following the end of the second world war, there was still a relatively strong anti immigrant sentiment amongst some Australian natives. However, as coffee became more and more popular amongst Australia's youth, this ideology slowly started to dissipate.  
Coffee did the one thing that can capture a large audience across multiple generations. 
It became cool. 
Coffee in Europe had previously been rooted in aristocracy, high fashion and wealth. Australian coffee culture turned this on its head and brought a trendy, relaxed and individual feel to pop up coffee shops all over the country. 
The Fall of Starbucks in Australia
As mentioned above, Jason Allen's article via The Nudge "Why Australian Coffee is the Best on the Planet" (April 2016), notes that in the late 1900s, around "95% of the country's coffee shops are independently owned". 
This caused major problems for by far the world's biggest coffee brand, Starbucks. 
As Allen points out, Starbucks has opened an average of 2 new coffee house's somewhere in the world every day for the past 30 years. So the fact that they incurred a $143m loss and closed the majority of their stores in Australia shows just how seriously the Aussies take great quality coffee! 
Australian coffee has a much more delicate flavor profile compared to large American coffee chains. Where the likes of Starbucks like to use dark roasted, harsh and bitter tasting coffee beans, so many of Australia's best coffee roasters place the emphasis on the bean's natural taste. 
Whilst the American influence on the Australian coffee market brought it to the masses, it was the impact of Italian and Greek heritage that served as the foundation for the strong, but creamy and smooth coffee that Australia is so well known for today. 
7 Reasons Why Coffee From Australia Is So Good:
Now we have caught up on the history behind Australia's booming coffee industry, let's dive into the specific reasons why it is taking the world by storm today! 
1. Emphasis on Medium to Light Roasts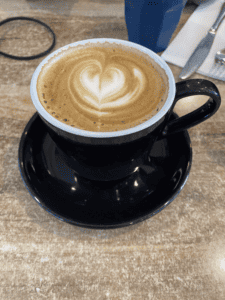 The first thing to mention here is the quality of the coffee beans themselves. Not only is Australian coffee notoriously well produced, but roasters also tend to prefer the use of light and medium roasts over bitter dark roasts. 
One of the main reasons for this is that it allows the natural flavors of the coffee beans to come to the fore. This is just as well, as the coffee beans used in Australia often exhibit flavor notes of caramel, milk chocolate and sweet nuts. 
The overall effect of avoiding dark roasts is a smoother, more subtle and better balanced taste that also lends itself to greater individuality between different coffee roasters. 
2. The Smooth Texture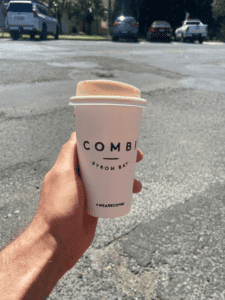 One of the most striking things about Australian coffee is just how smooth it is! 
This comes down to both the quality of the coffee beans used and the skill of the barista serving them. 
The way the milk is frothed, the control of temperature and the quality of ingredients used all come together to make Australian coffee silky smooth and a delight to drink! 
3. Talented Baristas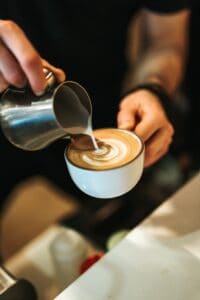 Further to the point above is the exceptional barista talent present in Australia. This again is a major contributing factor as to why their coffee tastes so damn good! 
Since coffee is such big business down under, working in a local, independent coffee shop is seen as more of a lifestyle job rather than just part time work in a large coffee chain to get by whilst studying. 
Walk around the streets of Sydney, Bryon or Brisbane and you'll be greeted by high end, independently owned coffee shops with friendly, talented baristas that take pride in their work and keep the lines outside the shop front full! 
4. The Breakfast Culture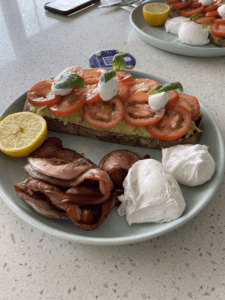 Another reason why Australian coffee is held in such high regard is the in-built tradition of putting breakfast on a pedestal. 
When you think about it, the weather in Australia is so good for so much of the year, and the majority of Australia's most popular cities sit on the East coast. This means surfers, beach goers and fitness enthusiasts will often get up early before the working day, go for a dip or a run and then be in search of a morning pick me up. 
This is where having such an abundance of high quality, independently owned coffee shops comes into its own. Aussies will often grab a flatty (the local lingo for a flat white), on the way to work along with a quick snack to set themselves up for the day. 
But, to take it a step further, Aussies love to make going out for breakfast or brunch a proper occasion. It is very common for Australians to socialise over a delicious plate of eggs and smashed avocado on toast, accompanied by a strong flat white, then head out for an early evening dinner, rather than indulge in a fancy lunch on the weekend. 
5. A Huge Coffee Industry
As mentioned above, the coffee industry in Australia is huge. It is a high growth market that is enjoyed by Aussies of all ages. In fact, the majority of coffee sales revenue is generated by actual visits to coffee shops, rather than home brewing, demonstrating how much of an event it is to go and grab a brew with friends and family. 
The fact that Australia has such a high degree of competition amongst independent coffee shops, roasters and breakfast joints means that quality and value for money has to keep improving to stay ahead! 
6. They Support Local, Independent Coffee Houses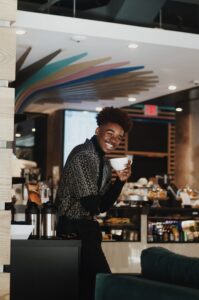 Another factor that is so clear to see in Australia is how much hype there can be around local coffee. It's almost like each district is competing to be the best in the entire country, with local coffee houses each offering their own unique take on taste, temperature control and texture. 
Each Australian coffee lover has their favorite go to spot, but it is also not uncommon for a group of coffee enthusiasts to travel the country in search of new, exciting coffee destinations. 
7. Espresso Espresso Espresso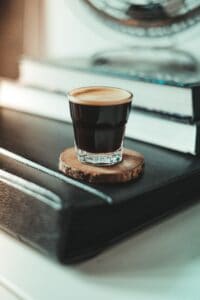 Finally, one of the biggest reasons why Australian coffee tastes so damn good is their dedication to great quality espresso. 
It is almost frowned upon to order a filter or drip brew coffee in an independent Aussie coffee house! Strong, rich and creamy espresso is what Australian coffee culture is built on, founded in the culmination of American, Italian and Greek heritage.  
Silky smooth espresso is the cornerstone of the Australian coffee scene, and it is easy to see why it's taking the world by storm! 
Summary
Overall, Australian coffee is becoming more and more popular on the world stage for good reason. Their rich coffee history has humble beginnings but is world renowned due to the emphasis on high quality espresso, individuality and fresh produce. The coffee culture in Australia has to be seen to be believed, and it is well worth a visit if you want to experience some of the best breakfast and independent coffee houses in the world!
Related Questions
What is Unique About Australian Coffee Culture?
Australian coffee culture puts small, local, independent coffee shops on the map, rather than large industrial chains. This means there is a lot more individuality and expression in the Australian coffee scene that locals love. 
Why Is Australian Coffee Different?
The quality of Australian grown coffee beans are second to none. Aussies also tend to use more light and medium roasts rather than dark, to emphasize the natural chocolate, nut and caramel flavors associated with these beans. 
Is Australian Coffee Better Than American Coffee?
Whilst American coffee is much more widely consumed, many coffee enthusiasts will argue that Australian coffee tastes a lot better. This is due to the superior quality of coffee beans, more talented baristas and use of gentle light to medium roasts rather than aggressive dark roasts used to standardize mass production.