Lavazza's Wimbledon Partnership: Still Great a Decade On?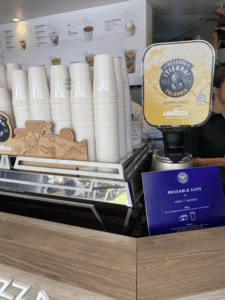 Hey there! Some links on this page are affiliate links which means that, if you choose to make a purchase, I may earn a small commission at no extra cost to you. I greatly appreciate your support!
Coffee and queueing go hand in hand, and the partnership between Lavazza and Wimbledon has been a roaring success for the last decade. However, with a turbulent time from the Covid pandemic and fans returning to the famous queue for 2023, is this still a match made in heaven? 
I travelled to Wimbledon this year to enjoy some tennis, and see if the Lavazza Wimbledon experience is still serving aces. 
History of the Lavazza and Wimbledon Partnership
Lavazza has been a flagship Wimbledon partner since 2011. In the tea drinking capital of the world, serving hot, rich Italian espresso caused a bit of a stir. However, a decade later the partnership is still going strong, with both parties committing to an extended working relationship until 2025. 
The Wimbledon partnership was a hallmark for Lavazza. This was their first foray into a major sporting partnership, and one that joins a host of blue chip brands associated with the Championships. 
Wimbledon has historically been a place for high flying, champagne drinking classy individuals that come and enjoy the tennis in their corporate seats, clapping respectfully at the glorious shots on show. 
However, in recent years Wimbledon has sought to grow their commercial portfolio and partner with major brands as media attention on professional tennis increases. 
Before Lavazza's partnership with Wimbledon, the All England Club had supported brands like Lanson Champagne and Evian Water. 
Wimbledon would only be associated with brands that align to their values of prestige, elegance and respect. They mention that "the distinctive values of the Lavazza brand are quality and innovation while respecting tradition that stems from Luigi Lavazza, who invented the concept of the coffee blend" Official Partners, Wimbledon.com. 
How Both Have Benefited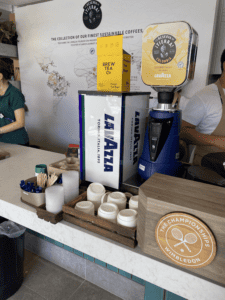 It is clear to see that both brands have benefitted from this partnership, with the agreement to sponsor Wimbledon extending to 2025. 
However, what does Wimbledon stand to gain from this commercial relationship? 
Well, the official Wimbledon queue is back in 2023 after a 2 year hiatus thanks to the Covid pandemic. This means hundreds of thousands of early risers descending on SW19 to enjoy a day at the championships. 
Anecdotally speaking, there are a few ways in which both Wimbledon and Lavazza have benefitted mutually from their brand partnership. 
From Wimbledon's side, tennis fans can now enjoy free, authentic Italian espresso in the queue, encouraging more and more people to pay the championships a visit, and keeping them awake after such an early start. 
Wimbledon had also received a number of complaints about the quality of their coffee prior to the partnership, something that clearly didn't wash with highly expectant tennis fans. 
Wimbledon revenues have been increasing year on year, with the 2022 championships grossing nearly £350m according to the Express.
Clearly something must be going right! 
Whilst it is difficult to pin down financial details of these sponsorship deals, the fact that Lavazza has now opened a flagship London store shows their stamp of authority on the UK coffee capital. 
Lavazza Extension into Other Sporting Arenas 
After landing their flagship deal with Wimbledon, Lavazza wanted to work with other major brands within the tennis world. 
Having already bagged the most iconic tournament in the sport, Lavazza then partnered with Roland Garros and the US Open. 
Following their successful partnerships with major tournaments in tennis, Lavazza now sponsor a number of additional teams and events, including: 
Nitto ATP Finals

Royal Ascot

Juventus

Arsenal FC

Williams F1 Team

Ajax FC

Liverpool FC.
My Wimbledon Experience
As a tennis fan myself, Wimbledon is always the highlight of the tennis calendar. I have been to Wimbledon a number of times, with my favourite experience being the 2016 championships, where I supported Marcus Willis during his dream run. He ended up losing to the great Roger Federer in the second round, but it was an unforgettable experience getting to support Marcus all the way.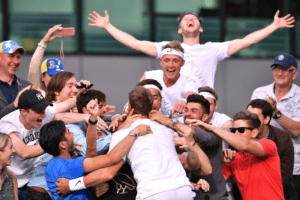 In terms of Wimbledon and Lavazza, I saw a number of small pop up stalls and large built in coffee stands at Wimbledon this year. Lavazza branding is everywhere and it is clear that they are keen to make their presence known throughout the venue.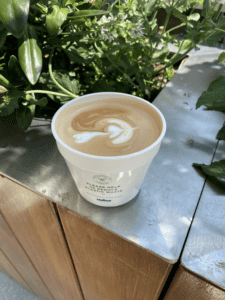 One of the major coffee Lavazza kiosks is located just down from the famous Hill, outside of Court 1. This offered a range of unique coffee drinks and a bit of additional information about the coffee on offer and the brand itself.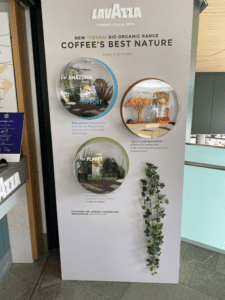 A nice touch from Lavazza this year was offering a new 'Cookie Capri', a double shot of espresso encased in a sweet, nutty cookie cup with frothed milk.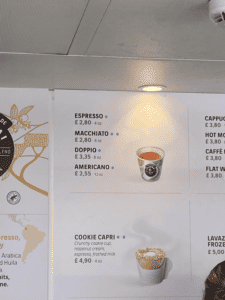 Lavazza was also keen to promote their new Tierra range of coffees, which promise to be more friendly to the planet. Their organic coffee is part of their new sustainability campaign which seeks to make their coffee processing more eco friendly by incorporating reforestation, supporting coffee farmers and reducing the brand's carbon footprint. 
Summary
Overall, Wimbledon and Lavazza is a match that has seen both brands thrive over the past decade. The extension of their sponsorship deal comes as no surprise given how successful it has been for both parties. 
From a fan's point of view, it is great to be able to try new coffees at Wimbledon thanks to the ongoing partnership with Lavazza, especially when you're up so early in the queue!