An Enthusiast's Experience of the London Coffee Festival 2023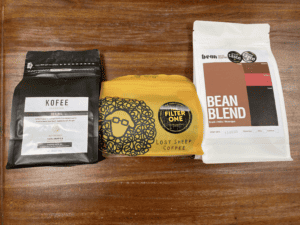 Hey there! Some links on this page are affiliate links which means that, if you choose to make a purchase, I may earn a small commission at no extra cost to you. I greatly appreciate your support!
My experience of the 2023 London Coffee Festival was a unique one. As a coffee enthusiast, I like to think I know a thing or two about coffee bean varieties, machines and what I do and don't like in a cup of Joe. 
However, the London Coffee Festival opened my eyes to a whole new world! 
If you like the idea of exploring your love of coffee, seeing some of the world's biggest coffee brands, and meeting thousands of like-minded coffee enthusiasts, then the London Coffee Festival is definitely for you!  
What is The London Coffee Festival? 
The London Coffee Festival does exactly what it says on the tin! 
It is a festival held in the renowned Truman Brewery that brings together big name coffee brands from around the world. Coffee lovers can come along over an entire weekend in April to sample dozens of cups of top quality coffee, test out new and innovative coffee machines and immerse themselves in a range of coffee related experiences. 
If you love tasting a wide range of different coffee bean varieties, learning about new brewing methods or simply taking in all of London's best coffee aromas, then the festival is right up your street. 
The London Coffee Festival isn't just about checking out freshly brewed cups of Joe, there is a whole host of things to see and do. 
As you walk into the ground floor complex, you are greeted by dozens of stands promoting their high quality wares. From coffee machines, to portable coffee cups, to biscuits and bars to plant based milk alternatives, no matter which area of the coffee world you're interested in you'll be well covered here.  
Where is the London Coffee Festival Held? 
This year, the 2023 London Coffee Festival took place in the edgy Truman Brewery in Shoreditch. East London has a long, rich heritage of producing high grade coffee and is home to a whole host of top quality roasteries. 
Some of the UK's biggest and most well known coffee are based in East London, such as: 
Therefore, it is the perfect place to gather London's most avid coffee fans and let them roam free amongst a myriad of coffee based brands! 
Despite the brewery being a large venue, the event was pretty crowded at times. This shows just how many enthusiastic coffee lovers wanted to get their hands on London's delicious produce!
The Biggest Names at the London Coffee Festival 2023
The London Coffee Festival attracted some big hitters in the coffee space. Some of the biggest names in the game came along to show what they have to offer, including: 
For a full list of brands exhibiting at the London Coffee Festival 2023, check out this page. 
My London Coffee Festival Experience
I have to say I thoroughly enjoyed my experience at the 2023 London Coffee Festival. For anyone that is a keen home brewer, likes to try new coffee or simply wants to explore what the best of Lonodn coffee has to offer, it is definitely worth attending the event in 2024. 
Here are a few of my personal highlights from the event. 
The Coffee Masters
The Coffee Masters was an event that ran throughout the festival and saw a number of champion baristas battle it out to see who would be crowned the 2023 Coffee Master. 
16 talented baristas battled it out for supremacy and a £5000 prize. 
The eventual winner was 3x barista champion from Denmark, Janis Podins. 
Check out his Instagram page here!  
Smirnoff Cocktail Stand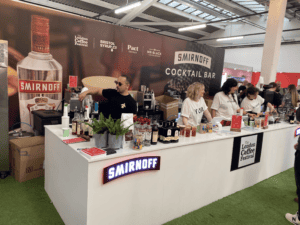 One of the most popular stands at the London Coffee Festival was the Smirnoff cocktails experience. Many coffee enthusiasts were walking around the packed out festival with an espresso martini in hand. 
There was also a cocktail making masterclass on offer for those that want to take their coffee cocktail game to the next level. 
Perfect Ted Matcha
One of Dragon's Den's most recent success stories is Perfect Ted Matcha drink. This is an innovative healthy coffee alternative that does a great job of releasing energy slowly so you don't get that caffeine crash in the middle of the day. 
They were one of the more lively stands at the London Coffee Festival as they were blaring loud music all day! 
Illy Stand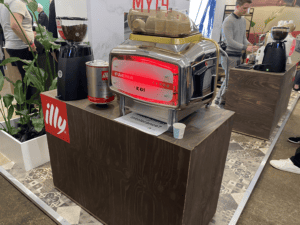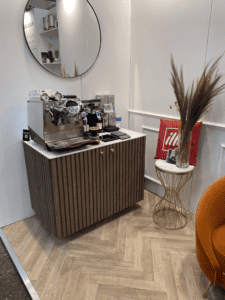 One of the biggest brands in the world of coffee was in attendance at the festival, and offered up a very well presented stand for coffee lovers to enjoy. Illy showed off some of their interior design inspiration and showcased unique coffees from their wide range. 
Soho Hot Ice Cream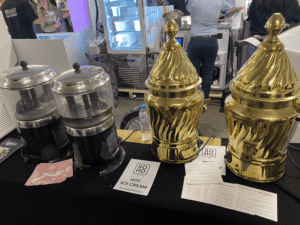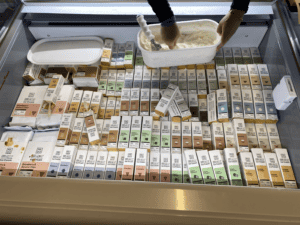 Another innovative and unusual appearance at the 2023 London Coffee Festival was the Soho Hot Ice Cream company. Despite the name, their ice cream wasn't actually served piping hot… instead it was made from ingredients that stop it from melting for up to an hour!
DeLonghi Stole the Show!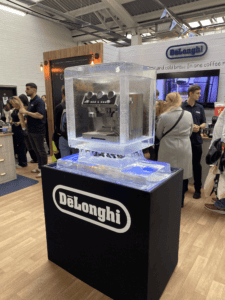 The DeLonghi stand was the marquee piece of the festival for me. Featuring a coffee machine suspended in ice, a massage table and an F1 simulator, they really went to town! DeLonghi are one of the biggest and best known coffee brands in the world, and they really wanted to make a statement at the London Coffee Festival this year. 
Notable Mentions
Below are a number of additional notable mentions that I saw at the London Coffee Festival this year: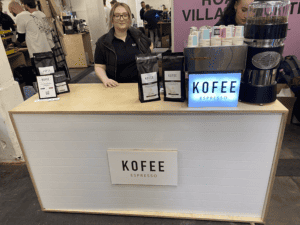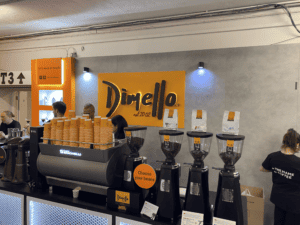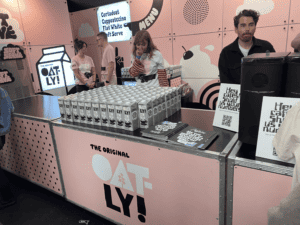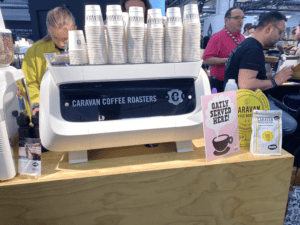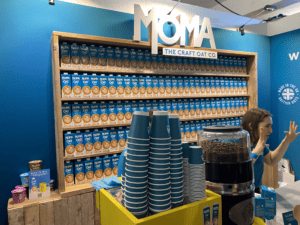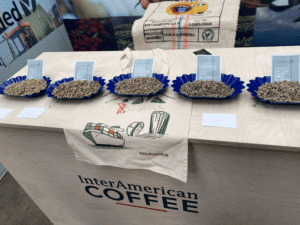 Summary
Overall, the London Coffee Festival 2023 was a unique and immersive coffee experience that wowed all the senses. I would thoroughly recommend anyone, coffee fanatics, industry experts or even enthusiasts that are keen to find their new favourite bean to check it out in 2024!